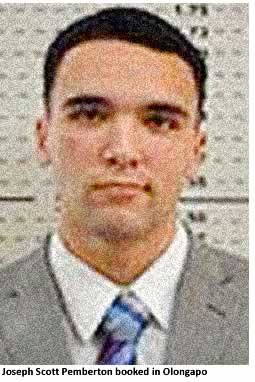 iven the Filipino penchant for "dramatics," not to mention the circus atmosphere that inevitably encompasses any event of even minor significance, one can hardly blame American government officials for refusing to hand over US Marine Lance Corporal Joseph Scott Pemberton over to Philippine authorities. The intriguing question in all this however is why some Filipinos are so insistent on having custody over the accused. The Visiting Forces Agreement (VFA) between both countries clearly states that "The custody of any United States personnel over whom the Philippines is to exercise jurisdiction shall immediately reside with United States military authorities, if they so request, from the commission of the offense until completion of all judicial proceedings." U.S. officials have acted quite appropriately from the very start. However a Filipino culture of mistrust, coupled with the desire to show Americans "who's boss" have more than a few Pinoys demanding Pemberton be turned over to Philippine authorities and placed in a Philippine jail cell.
Unfortunately, Filipinos are about to blow-off their big toe as they shoot themselves in the foot—yet again, should they insist on pursuing that pointless demand. The reason is because despite the Filipino's desire to view this case in isolation, no one else is viewing it that way. It is part of a continuum with China on one end and the U.S. on the other. And if the Philippines continues to insist that the accused be turned over to them, they are in effect telling the U.S. we don't trust you! And America's response would be "if you don't trust us, then why should we put our troops in harms way to defend you against China?"
December 15, 2014 came and went and China did nothing except thumb its nose at the Philippines.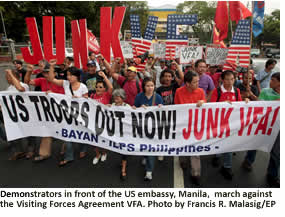 That date was the deadline the United Nations arbitral tribunal gave China to submit its response to the case filed against it by the Philippines. China did not respond because it likely has little respect for the Filipinos—just as Filipinos in past decades had little respect for the Chinese. In the final analysis however, it is what Filipinos will hand down to future generations that should matter to them. Will they bequeath a carved-up archipelago? Or will we give tomorrow's Filipinos a complete country, including its shoals, reefs, banks, islands, and all the mineral resources that lie underneath them.
If Filipinos choose the latter, than they need as many nations as possible on their side. And with its top-notch military, America is the 500-pound gorilla that every country wishes it had on its side. So it is not too far-fetched to state that how Pinoys handle the Pemberton case today could well determine what any future Philippines might actually look like. Published 12/19/2014




Philnews.com reserves the right to select and edit comments for publication.

Comments from Our Readers
(Topic: Do Filipinos Want America on Their Side or Not?)
Name: HMS
City/State/Country: USA
IP Address: 74.77.36.177

Comments
This is another case where the Filipinos are baring their teeth for all the wrong reasons. As long as a fair trial is conducted what difference does it make who has custody of the accused? Amor Propio? Is that more important to the Filipinos than defending its land against the intruding Chinese? And who are these noisy people demonstrating against the USA & the Treaty and burning all sorts of effigies? COMMUNISTS! They seem many because they are so noisy. And they are the ones the media show to the world.
---
Name: HMSomeone
City/State/Country: USA
IP Address: 74.77.36.177

Comments
The Love-Hate relationship between the PHL & the USA continues. Filipinos, for some reason hold the USA to strict standards than other countries. They are more sensitive of Americans which they would criticize for the flimsiest of reasons. Filipinos, like recalcitrant children do not want to admit their dependence on America. Yet when disaster strikes there's no one more willing to help than the USA. This whole thing was the result of a prostitution transaction gone wrong. If the accused were not an American soldier this case would not even make it to the front page. Is it worth breaking a Treaty on account of a case like this?
---
Name: roger cadub
City/State/Country: new, jersey
IP Address: 73.193.153.218

Comments
Mga kabayan mas kampihan pa ninyo ang bakla na nanloko sa kano, yong mga bakla na yan ay pangkat ng manloloko tulisan sa mga sailor na mga lasing na. Kaya yan talaga ang mapapala nila. Sayang ang tulong ng mga kano kong ayaw na ninyo.



Philippine NewsLink reserves the right to select and edit comments for publication.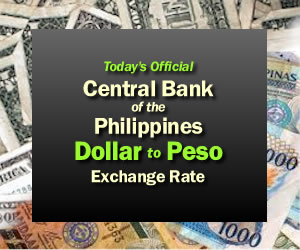 RECENT EDITORIALS
Obama, a Lincoln to millions of undocumented  immigrants?



President Barack Obama's recent Executive Order legalizing millions of undocumented immigrants will mark him in history as a great President. Undocumented immigrants are the modern day slaves in American society. In constant fear, living in substandard conditions, paid low wages for backbreaking work, subjected to all kinds of abuse and exploitation - they contribute so much to American society. Published 12/02/2014
---
Pope Francis' View of God
Filipinos preparing to welcome Pope Francis to the Philippines on January 15, 2015 would do well to be familiar with the Pontiff's recently enunciated views which have drawn fire from religious conservatives. One may recall that soon after his election, Pope Francis was criticized for refusing to "judge" gays. Published 11/18/2014
---
12 Million Metro Manila Commuters Stuck in Gridlock Hell

For much of the last month, my Facebook friends in Metro Manila have been posting comments lamenting their helplessness at being condemned to spend a great portion of what is left of their productive lives stuck in hours of traffic with no hope in sight. They now appreciate why Dan Brown described Manila in his book, Inferno, as "the gates of hell" specifically referring to its "six-hour traffic jams (and) suffocating pollution". Published 11/062014
---
Why Filipino-Americans Need to Vote Democratic on November 4

Since 1620 when the pilgrims landed on Plymouth Rock, people the world over have migrated to America in search of a better life. Filipinos are no exception. In the '70s and '80s Filipinos who were able to, left for the U.S. to escape the tyranny of the Marcos regime; today they leave is to escape the poverty and the lack of opportunity in their homeland. Whatever the reason, Filipino migrants quickly shed their old habits and attitudes and embraced American culture. Published 10/30/2014
---
Both United States and Philippine Governments to Blame for Death of Jeffery "Jennifer" Laude

The United States and Philippine governments share the blame for the tragedy. Two young lives needlessly destroyed: the first, a young Filipino transgender found strangled inside a motel bathroom; the second a teenaged American serviceman now accused of murder. Published 10/19/2014
---
Death of Filipino Transgender 'Jennifer' Laude Was Totally Preventable
The evening for the young US Marine and his Filipino date "Jennifer" began at the Ambyanz Disco Bar in Subic Bay, Olongapo and ended shortly before midnight at the Celzone Lodge where "Jennifer's" lifeless body was found leaning against the toilet bowl. Jennifer, it turns out was actually not originally a "she" but a "he." A Filipino transgender, Jeffrey Laude, 26, began calling himself "Jennifer" after medical procedures made him look more female than male. Published 10/14/2014
---
Sorry Mr. President But PNP Chief Alan Purisima Has to Go

What's with Philippine civil servants these days? It seems that you can stick all their pictures on a wall; throw a dart; and whoever's photo it land on, that person can be successfully prosecuted for graft. It is unbelievable how pervasive and widespread corruption has become. We go from one corruption scandal to the next and there seems to be no end in sight. Published 10/07/2014
---