ilipinos preparing to welcome Pope Francis to the Philippines on January 15, 2015
would do well to be familiar with the Pontiff's recently enunciated views which have drawn fire from religious conservatives.
One may recall that soon after his election, Pope Francis was criticized for refusing to "judge" gays.
"When I meet a gay person, I have to distinguish between their being gay and being part of a lobby," he said. "If they accept the Lord and have goodwill, who am I to judge them? They shouldn't be marginalized. The tendency [to homosexuality] is not the problem…they're our brothers," he added.
He expressed the same mercy and compassion for the poor as he did for gays. Pope Francis declared two months ago in a speech in Rome at the World Meeting of Popular Movements that "caring for the poor does not make you a communist" expressing concern that "land, housing and work are increasingly unavailable to the majority of the world's population."
Pope Francis has voiced concern for the environment and climate change, as he did for the rights of farmers to have land, and for young people to be employed.
Responding to his critics who accuse him of espousing Marxist views, he said "They don't understand that love for the poor is at the center of the Gospel. Demanding this isn't unusual, it's the social doctrine of the church."
In recent weeks, Pope Francis has also been criticized for declaring that the Big Bang Theory and Evolution are not incompatible with the teachings of the Catholic Church.
"When we read about creation in Genesis, we run the risk of imagining God was a magician, with a magic wand able to do everything. But that is not so," Pope Francis said in a speech before the Pontifical Academy of Sciences meeting in Rome. "He created human beings and let them develop according to the internal laws that he gave to each one so they would reach their fulfillment," he explained.
Pope Francis expressed his belief that the theory of evolution is not at odds with Catholic doctrine. "Evolution in nature is not inconsistent with the notion of creation, because evolution requires the creation of beings that evolve," he said.


Christian Creationist leader Ken Ham condemned Pope Francis for having "compromised biblical authority in favor of man's ideas in the area of origins." Ham claimed that the Pope's comments show "a lack of understanding of who scripture claims God is — the all-powerful Creator, who is capable of doing what is impossible to man."

The controversy over the views of Pope Francis recalls an article that appeared in USA Today ("View of God can predict values, politics", Cathy Lynn Grossman, September 12, 2006) which reported that those who believe in one God "don't all have the same image of the Almighty in mind."

The article reflected on the findings of a study conducted by sociologists from Baylor University's Institute for Studies of Religion, a Baptist school of higher learning in Waco, Texas, which reviewed and analyzed the results of a Gallup Poll survey of 1,721 Americans who were each asked 77 questions with 400 answer choices.

The Gallup survey results revealed four distinct views of God.

-About 31.4% believe in an Authoritarian God who is "angry at humanity's sins and who is engaged in every person's life and world affairs" and "ready to throw the thunderbolt of judgment down on the unfaithful or ungodly." This view forms the core conviction of the American Religious Right.

According to Grossman's report, believers in an Authoritarian God "want an active, Christian-values-based government with federal funding for faith-based social services and prayer in the schools. They're also the most inclined to say God favors the USA in world affairs (32.1% vs. 18.6% overall)."

-About 23% believe in a Benevolent God which is a forgiving God ("more like the father who embraces his repentant prodigal son in the Bible") and believe that caring for the sick and needy ranks highest on the list of what it means to be a good person. "God is in control of everything. He's grieved by the sin of the world, by any created person who doesn't follow him. But I see (a) God ... who loves us, who sees us for who we really are. We serve a God of the second, third, fourth and fifth chance," says Rev. Jeremy Johnston of the 5,000 member Southern Baptist Congregation in Kansas.

-About 16% believe in a Critical God who has his "judgmental eye" on the world, but who will not intervene, either to punish or to comfort. According to Baylor's Christopher Bader, "this group is more paradoxical, They hold very traditional beliefs, picturing God as the classic bearded old man on high. Yet they're less inclined to go to church or affiliate seriously with religious groups. They are less inclined to see God as active in the world. Their politics are definitely not liberal, but they're not quite conservative, either."

Grossman writes that "those who picture a critical God are significantly less likely to draw absolute moral lines on hot-button issues such as abortion, gay marriage or embryonic stem cell research."

-About 24.4% believe in a Distant God who is "no bearded old man in the sky raining down his opinions on us" (Bader). They see a cosmic force that launched the world, and then left it spinning on its own. Bader believes that this has strongest appeal for Catholics, mainline Protestants, Jews, among "moral relativists" - those least likely to say any moral choice is always wrong - and among those who don't attend church.

From reading his pronouncements, Pope Francis clearly favors a Benevolent view of God, the God of a merciful and compassionate Jesus as described in the New Testament.

But how do Filipinos view God?

University of the Philippines Chancellor Dr. Michael Tan postulated in an Inquirer column that a majority of Filipinos believe in a somewhat distant but intervening God, literally a "tatay" [father] in the stereotyped sense. Filipinos tend to believe that natural disasters and personal misfortunes are punishment from God for our sins. But, Tan writes, "we also tend to see our relationships with that God as negotiable. We bargain all the time, vowing to do several novenas or have ourselves nailed to the cross in Lent, on condition that a certain favor is granted."

It may even be more confusing than that. Filipino Catholics pray to a dysfunctional Holy Trinity, believing in an Authoritarian God the Father, in a Benevolent God the Son, and in a somewhat Critical or Distant God the Holy Spirit.

But there is another dynamic involved. More than any other Catholic country in the world, the Philippines has embraced the Blessed Virgin Mary. Unlike Catholic churches in the US, Philippine churches all exhibit iconic images of the Holy Mother.

This tradition goes all the way back to the origins of Christianity in the Philippines. The first church erected in Manila, the Nuestra Señora de Guia (the Ermita Church), prominently featured a statue of the Blessed Virgin. Over one hundred Philippine parishes honor the Immaculate Conception, over sixty are dedicated to Our Lady of the Holy Rosary, while others carry various titles like the Assumption, Our Lady of Carmel, Mother of Perpetual Help, Our Lady of Lourdes.

Pope Francis shares a similar devotion to the Blessed Virgin Mary as Filipinos do. Pope Francis has explained that the Virgin Mary is not worshiped as a God but is venerated as the highest of God's creatures "owing to her personal holiness, her assent to become Christ's earthly mother, and her faithfulness up to and beyond the Crucifixion". She is considered the first and model Christian, and since Catholics believe she lives on in Heaven, they turn to her to pray for them and offer support in hard times.

The Pope's devotion to Mary was evident during his visit to the Marian shrine of Our Lady of Aparecida in Brazil during World Youth Day Rio in late July 2014. In his homily, Pope Francis said, "When the Church looks for Jesus, she always knocks at his Mother's door and asks, 'Show us Jesus.' It is from Mary that the Church learns true discipleship. That is why the Church always goes out on missions in the footsteps of Mary."

Mother Mary is the embodiment of mercy and compassion and in the belief in a benevolent and caring God.

The Philippine is the only country in the world that does not allow for divorce (the Vatican is not a country) owing to the deep influence of the Catholic Church. Does this policy favor or oppress women? Does a merciful and compassionate God oppose divorce?

"Filipinos are in dire need of mercy and compassion." This was the message of Archbishop Socrates Villegas, president of the Catholic Bishops' Conference of the Philippines, to the attendees of the one-day spiritual gathering titled "A Nation of Mercy and Compassion" last week at the Santisimo Rosario Parish Church in the University of Santo Tomas (UST).

Archbishop Villegas urged Catholics to look at Jesus to recognize that humanity is "poor and in need of God's love. See the suffering of Jesus as your own sufferings and his pains as our own pains. Look at Jesus and see how he had suffered for his love for us," he said

The best way to look at Jesus, the Archbishop said, is to look at Pope Francis who is the "sweet scent and odor of Jesus."

"There is no better place, but to look at the face of Pope Francis. Let us listen, watch, and stand by the Pope and you'll see yourself looking and listening to Jesus," he added.

The press release about the Archbishop's UST address reported that "he reminded the attendees that mercy and compassion, which is the theme for the Pope's apostolic visit, is a gift from God that needs to be shared."

If what Archbishop Villegas declared is to be believed, then Filipinos share Pope Francis' view of a Benevolent God. This image of God, according to the Baylor report, is a "more powerful a predictor of social and political views than the usual markers of church attendance or belief in the Bible." Published 11/18/2014

(Send comments to Rodel50@gmail.com or mail them to the Law Offices of Rodel Rodis at 2429 Ocean Avenue, San Francisco, CA 94127 or call 415.334.7800).



Philnews.com reserves the right to select and edit comments for publication.

Comments from Our Readers
(Topic: Pope Francis' View of God)
Name: Sam Juan
City/State/Country: Hilong Hilo, Panay
IP Address: 38.88.177.203

Comments
Someone asked -"Can God exist without Religion and vice-versa? Are they dependent on one another? Or could they exist separately? So separate, in fact, that one does not need the other? Do we need Religion to know, accept and communicate with God? Is there like an enrollment process in a certain religion to know and understand God?" VERY profound thoughts- to which I would like to add-- WHO or What is god anyway? What are the differences between the gods- like the Vedic gods vs. the Christian Gods vs. the Islamic Gods, throw in the Norse, Greek and Roman gods? What is the difference between the eastern orthodox vs. the roman vs. the coptics? FINALLY- DOES IT REALLY MATTER that lots of lives had and have to be lost in its history?
---
Name: mockingmaya
City/State/Country: taft avenue, manila
IP Address: 73.48.191.193

Comments
The theme of the editorial is a product of different cultural theorists' understanding of the role of religion in politics. Why? There is common view the societies are being held by values. And religious belief, or Theology is a critical factor to electoral behavior. This is considered as an acid bath for religious fundamentalism or radicalized religion. The editorial may be a complicated discourse on the role of religion in politics, but it is indispensable in exposing religious fundamentalism, or what a cultural theorist calls " the twin activities of world construction & world maintenance." Plain & simple.
---
Name: HMSomeone
City/State/Country: USA
IP Address: 74.77.36.177

Comments
The Catholic Church was on the ropes due to multiple faith-shaking problems, the most damning of which were the sexual molestation accusations against priests, when Pope Francis came. Due to this Pope's examples of true humility and down-to-earth approach to his duties the Church recovered from its tarnished image tremendously. It is now a contest of Dogma which conservative, traditional Bishops insist on and the modern approach to religion that Pope Francis seem to exemplify. But where were these conservative, dogmatic Bishops when the pedophile Priests were running wild. Mabuhay Pope Francis!
---
Name: Art1234
City/State/Country: Gotham City
IP Address: 162.227.104.101

Comments
The election of Pope Frances, a Jesuit, from Argentina, (first from Latin America), from one of the more liberal orders of Catholicism, has signaled the big change in the usual conservative Cardinals, in response to the losing membership and attendance of Catholic churches due to years of Church scandals. Pope Frances, a non-dogmatic Pope, who was still taking a bus and paying his hotel bills, just before his Papacy rites, should advise the PH clergy not to be too dogmatic and quit interfering most PH government work, especially on the RH law, which woud help ease the burden of poor people with big families, and the resources limited PH government.



Philippine NewsLink reserves the right to select and edit comments for publication.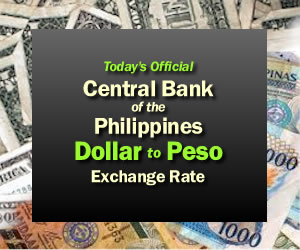 RECENT EDITORIALS
12 Million Metro Manila Commuters Stuck in Gridlock Hell



For much of the last month, my Facebook friends in Metro Manila have been posting comments lamenting their helplessness at being condemned to spend a great portion of what is left of their productive lives stuck in hours of traffic with no hope in sight. They now appreciate why Dan Brown described Manila in his book, Inferno, as "the gates of hell" specifically referring to its "six-hour traffic jams (and) suffocating pollution". Published 11/062014
---
Why Filipino-Americans Need to Vote Democratic on November 4

Since 1620 when the pilgrims landed on Plymouth Rock, people the world over have migrated to America in search of a better life. Filipinos are no exception. In the '70s and '80s Filipinos who were able to, left for the U.S. to escape the tyranny of the Marcos regime; today they leave is to escape the poverty and the lack of opportunity in their homeland. Whatever the reason, Filipino migrants quickly shed their old habits and attitudes and embraced American culture. Published 10/30/2014
---
Both United States and Philippine Governments to Blame for Death of Jeffery "Jennifer" Laude

The United States and Philippine governments share the blame for the tragedy. Two young lives needlessly destroyed: the first, a young Filipino transgender found strangled inside a motel bathroom; the second a teenaged American serviceman now accused of murder. Published 10/19/2014
---
Death of Filipino Transgender 'Jennifer' Laude Was Totally Preventable
The evening for the young US Marine and his Filipino date "Jennifer" began at the Ambyanz Disco Bar in Subic Bay, Olongapo and ended shortly before midnight at the Celzone Lodge where "Jennifer's" lifeless body was found leaning against the toilet bowl. Jennifer, it turns out was actually not originally a "she" but a "he." A Filipino transgender, Jeffrey Laude, 26, began calling himself "Jennifer" after medical procedures made him look more female than male. Published 10/14/2014
---
Sorry Mr. President But PNP Chief Alan Purisima Has to Go

What's with Philippine civil servants these days? It seems that you can stick all their pictures on a wall; throw a dart; and whoever's photo it land on, that person can be successfully prosecuted for graft. It is unbelievable how pervasive and widespread corruption has become. We go from one corruption scandal to the next and there seems to be no end in sight. Published 10/07/2014
---
Tear Down the Torre de Manila Building Being Built Behind the Rizal Monument?

According to the developer's website, "Torre de Manila, DMCI Homes' newest one-tower condominium, is an exclusive residential community right in the heart of the city." As of this writing, the 49-story edifice is about halfway complete. But as it continues to rise, so too do the howls of protest from an eclectic collection of groups and individuals who want it torn down. Why? Torre de Manila will permanently mar the skyline behind the Rizal Monument. Published 10/01/2014
---
How Ferdinand Marcos's Martial Law Continues Hurting Filipinos to This Day

On the evening of September 23, 1972, two days after it had taken effect, Ferdinand Marcos announced via live television from Malacañang Palace that he had placed the Philippines under Martial Law. It was a calculated move by a devious politician to keep himself in power beyond what the Constitution allowed. A staged ambush attempt against his Defense Secretary Juan Ponce Enrile was the main excuse Marcos (or "Macoy" as he was deridingly referred to back then) used to strip Filipinos of all their constitutional rights. With that, the diminutive Ilocano from the backwaters of Batac, Ilocos Norte became the despotic dictator for over a decade. Published 09/23/2014
---
Jejomar Binay Should Never Become President of the Philippines

In our July 25th editorial we asked if Vice President Jejomar Binay should be the next president of the Philippines. In this editorial we arrive at the definitive conclusion that that Binay should not be elected president. Since our last editorial, more witnesses have come forward with more allegations against the embattled Vice President. But our decision not to support Binay's presidential bid is based on irrefutable public acts that in our opinion disqualify him from the presidency. Published 09/16/2014
---