he future of Filipinos will be nothing like their past. Each and every Filipino must realize this. The proverbial lackadaisical "Juan Tamad" lying under a guava tree in an idyllic Amorsolo painting-like setting will no longer exist. Instead a new reality like that of ancient Sparta or modern-day Israel will pervade.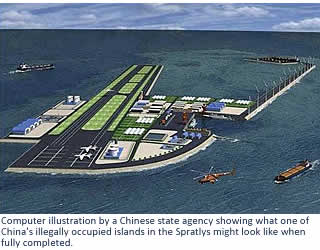 China is growing stronger every day and they are quickly turning into an aggressive, tyrannical power. Like Sparta and Israel, the Philippines will be in a constant state of siege for the foreseeable future. If the Philippines is to survive as an independent country, it has to do something…now!
Gloria Arroyo's act of treason
As we noted in a previous editorial (LINK), the highly secret Joint Marine Seismic Undertaking (JMSU) entered into between then president Gloria Macapagal-Arroyo, and the China National Offshore Oil Corp. [CNOOC] allowed China to map vast portions of the South China Sea—even those located well within the Philippines' 200-mile exclusive economic zone—to locate oil and mineral deposits beneath the sea bed. The JMSU was not only unconstitutional, it was completely lopsided, giving China all the data it needed when it takes over all of the South China Sea, as it is now trying to do.
The Philippine military is nothing but a big joke
In this regard, Filipinos have another former president to thank: the infamous Ilocano from Batac, Ilocos Norte. Ferdinand Marcos used the military to terrorize and intimidate the population during his decades in power. Naturally, even today there is a lingering distrust of the military. To pay for its crimes during martial law, the Armed Forces of the Philippines (AFP) has been underfunded and left to "wither in the vine." After all, who would want to give "those bastards" shiny new military gear after what they did to unarmed civilians during the '70s and '80s? They might even point those weapons at the people once again. In the Philippines today, men in military uniform are not loved and respected like they are in other countries. It is a discredited institution that very few young Filipinos want to be part of. Given all the foregoing, the AFP is just completely undependable and has be crossed-off for now.
So how can Filipinos stand up to China?
The same way Filipinos gradually came to the realization that they could not depend on their inutile government institutions or their mediocre captains of industry to lift the Philippine economy out of the doldrums, they took matters into their own hands by traveling to the four corners of the globe, to work like crazy, and remit money back into the Philippine economy. In so doing, they gave themselves jobs that the Philippines could never have given them, and provided a future for themselves and their families, all the while lifting their country's economy into greater and greater heights.
What President Aquino should do but won't is travel the globe arm-twisting, cajoling, or begging world leaders to stand by the Philippines in its conflict with China. The country is in dire need of a world-class leader who can stand toe-to-toe with presidents, prime ministers, kings and queens and get them to understand the Philippine side in this crisis. Unfortunately, the great majority of the country's elected officials were elected not because of their ability to influence people and change minds, but simply because they had the right last name. President Aquino is no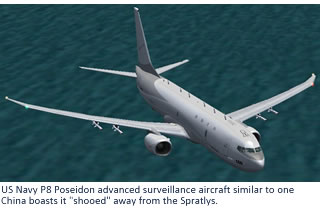 exception—nor are most Philippine senators and congressmen.

So all Filipinos, living abroad (as well as those in the Philippines) must pick up the slack and convince the world that it is in every country's best interest to stop China. For instance, many American legislators are now realizing that China is turning into a very dangerous bully; Filipino-Americans must support those legislators and help them push for a stronger U.S. stand against China. The Filipino-American vote can be crucial to legislators during elections. Fil-Ams should leverage that power to help the Philippines. This same strategy should be used by Filipinos in Canada, or Australia, or the UK, and so on. It won't be easy changing world opinion, but it can be done…and must be done. It is the only reasonable tract open to Filipinos. The military option as we stated earlier is not viable. The AFP will be crushed by the Chinese in a matter of days. But the Chinese will surely back down when they realize the whole world stands with the Philippines.

Millions of Filipinos all over the world can be a truly potent force for good. But they must make the effort and take up that challenge. It must be stressed that putting China in its place now will benefit all of mankind going forward. Filipinos are playing a crucial role as they have become the canaries in the coal mine. What they are going through now will be what many other countries will soon be going through unless China is stopped.

So are we Pinoys up to the challenge? We better be or we can kiss our freedom goodbye. Published 5/23/2015



Philnews.com reserves the right to select and edit comments for publication.
You can also post your comments below via DISQUS (NEW)
---


Ex-CJ Puno: National crisis looms over Bangsamoro Basic Law (BBL)
IN THE WAKE of the many discordant voices over the proposed law meant to bring peace to Muslim Mindanao, retired Chief Justice Reynato Puno is coming forward urging amendments to the 1987 Constitution. In an interview with ABS-CBN News, Puno said the public debates over the Bangsamoro Basic Law (BBL), between those in favor and against it, have become too incendiary and divisive that it may eventually lead into a national crisis and tear the country apart.

American firm uncovers cyber espionage of Asian countries by Beijing
HA NOI, May 26 (PNA/VNS) -- A decade-long cyber espionage operation for stealing sensitive information from India and several ASEAN countries, including Viet Nam, was discovered by American security firm FireEye. In a workshop on the newly released report, entitled APT 30 and the Mechanics of a Long-Running Cyber Espionage Operation, held in Ha Noi on Monday ...

Funds for Bangsamoro: P336.9 billion over 5 years
MANILA, Philippines - The Bangsamoro area envisioned to be created under the Bangsamoro Basic Law (BBL) would get as much as P336.9 billion in funding over five years, data from the Department of Budget (DBM) indicated. DBM presented the projection Tuesday before the committee on appropriations deliberating on the draft BBL.

House Committee on Ways and Means approves Bangsamoro bill
MANILA-- The House of Representatives Committee on Ways and Means approved with amendments provisions in the proposed Basic Law for the Bangsamoro Autonomous Region specific to taxation and wealth-sharing, the Office of the Presidential Adviser on the Peace Process said in a statement.

Palace welcomes survey showing all-time high personal optimism among Filipinos
MANILA, May 26 (PNA) -- Malacanang on Tuesday welcomed a survey showing all-time high personal optimism among Filipinos. According to the Social Weather Station (SWS) survey, some 42 percent of Filipinos expect their quality of life to improve in the next 12 months.

Tony Meloto: I was not prepared for the massive bashing
MANILA - Gawad Kalinga Founder Tony Meloto said he is deeply hurt by all the criticisms and bashing that he received after giving a speech at a university in Hawaii, which he said was taken out of context. In an official statement released to the media, Meloto said: "I am saddened that my statements were taken out of context and my metaphors given a negative interpretation, and I was not prepared for the massive bashing I received from social media after because of this."

Senators willing to sit down with President Aquino on BBL -- Drilon
MANILA, May 26 (PNA) -- Senate President Franklin Drilon on Tuesday said the senators would welcome sitting down with President Benigno Aquino III after the release of the committee report on the Bangsamoro Basic Law (BBL).

DBM releases P270M to start Manila Metropolitan Theatre restoration
MANILA, May 27 -- After suffering years of deterioration and neglect, the Manila Metropolitan Theater (MET) will finally get a new lease on life under the Aquino administration, beginning with a P270-million fund release made by the Department of Budget and Management (DBM) to the National Commission for Culture and the Arts (NCCA).

Philippine, US defense chiefs to meet on sea dispute
MANILA, Philippines - As US aircraft carrier USS Ronald Regan began its journey to Asian waters amid China's power flexing in the region, Defense Secretary Voltaire Gazmin would ...
READ IT AT PHILIPPINES NEWS HEADLINES
Department of Justice all set to finalize 3rd batch of pork cases
The Department of Justice (DOJ) will decide by Thursday whether it will proceed with the filing of the third batch of cases against lawmakers accused of diverting their Priority Development ...
READ IT AT PHILIPPINES NEWS HEADLINES
Pacquiao: Don't include my province in Bangsamoro
MANILA, Philippines - World boxing champion and Sarangani Rep. Manny Pacquiao is opposing the inclusion of his province in the proposed Bangsamoro autonomous region ...
READ IT AT PHILIPPINES NEWS HEADLINES
Taiwan offers peace plan in disputed sea
Taipei – Taiwan proposed a peace initiative on Tuesday to resolve territorial disputes in the South China Sea that it says will reduce tensions that have put Beijing at odds with its neighbors ...
READ IT AT PHILIPPINES NEWS HEADLINES
Suspicious visitors prompt Veloso kin to seek security help from DOJ
The family of Mary Jane Veloso, the Filipina sentenced to death in Indonesia for drug smuggling, has requested the government to provide security assistance in their ...
READ IT AT PHILIPPINES NEWS HEADLINES
China to extend military reach, build lighthouses in disputed waters
BEIJING – China outlined a strategy to boost its naval reach on Tuesday and held a groundbreaking ceremony for two lighthouses in disputed waters, developments likely to escalate ...
READ IT AT PHILIPPINES NEWS HEADLINES
Andal Ampatuan Sr. seeks medical help
Former Gov. Andal Ampatuan Sr., patriarch of the Ampatuan clan tagged in the Maguindanao massacre case, has asked the court to allow him to seek medical ...
READ IT AT PHILIPPINES NEWS HEADLINES
All systems go finally, for P11.2-B mega dam construction
Iloilo City — After many delays and obstacles, construction of the P11.2-billion mega dam in Calinog, Iloilo will finally be started before the year ends. Senate President Franklin Drilon ...
READ IT AT PHILIPPINES NEWS HEADLINES
Who's afraid of Grace Poe? Not Lakas-CMD
TACLOBAN CITY, Philippines—Leyte Rep. Ferdinand Martin Romualdez has said the Lakas-CMD party is not afraid of facing Sen. Grace Poe if she runs for President as ...
READ IT AT PHILIPPINES NEWS HEADLINES
Mindoro governor Alfonso Umali's bid to travel opposed
MANILA, Philippines - State prosecutors have opposed a petition to travel filed by Oriental Mindoro Gov. Alfonso Umali Jr., who was earlier convicted of graft by the Sandiganbayan. In a motion filed ...
READ IT AT PHILIPPINES NEWS HEADLINES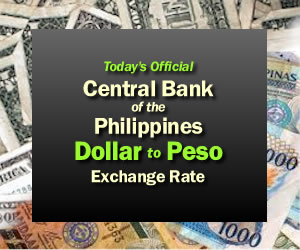 Pacman's Gamble



The world now knows that while training for his May 2 "Fight of the Century" with undefeated world welterweight boxing champion Floyd Mayweather, Manny "Pacman" Pacquiao suffered a shoulder injury. According to his trainer, Freddie Roach, this mishap occurred on April 4 in a sparring session when he threw a right hook and his arm "got entangled with those of his sparring partner". Published 5/17/2015
---
Chinese Military Bases Under Construction on Philippine Reefs Must be Destroyed Now!

This is the reality: China's military leaders are rushing the construction of military bases in six different reef areas inside the Philippines' exclusive 200 mile economic zone. The Philippines is doing nothing to immediately stop it. Published 5/10/2015
---
Is Vice President Jejomar Binay the Manchurian Candidate?

It was made into two classic films, the first with Frank Sinatra in 1962 and the second with Denzel Washington in 2004. "The Manchurian Candidate", the 1959 best-selling novel by Richard Condon, told the tale of a group of American soldiers captured during the Korean War who were taken to Manchuria, China where they were brainwashed by Chinese officials. Published 5/3/2015
---
Pacmania Sweeps the World

Walk down any big city in the Philippines and you feel the excitement gripping everyone; men and women, boxing aficionados or not. Sunday's match (Manila-time) between Manny Pacquiao and Floyd Mayweather will have the country, glued to screens, large and small in major metropolitan areas as well as far-flung rural barrios. Published 4/29/2015
---
Mary Jane Veloso's Execution Will Only Highlight the Dysfunction of Filipino Society

On the 28th of April, the Indonesian government will execute Filipina Mary Jane Veloso by firing squad. For this luckless young woman, it will be the culmination of a life that from the beginning, had been dealt a losing hand. Published 4/25/2015
---
There Will Never be Lasting Peace with the Bangasamoro Basic Law
It is incomprehensible to many that despite all the negatives piling up against it, the Aquino administration is still pushing for Congress to ratify the Bangasamoro Basic Law (BBL). First and foremost, the Moro Islamic Liberation Front with whom the Philippine government entered into an agreement with, massacred 44 Special Action Force (SAF) policemen who were serving an arrest warrant on an international terrorist. Published 4/18/2015
---
Is Manny Pacquiao Giving Floyd Mayweather an Unfair Advantage?

Doctor Expedito Castillo, a retired internist with training in sports medicine thinks so. Castillo who lives in New York points out that Los Angeles—where Manny Pacquiao now trains for his May 2nd fight, and Las Vegas—where Floyd Mayweather trains and where the boxing match will take place, have enormous differences in terms of elevation. Los Angeles is just 233 feet above sea-level, while Las Vegas is a whopping 2,000 feet above sea-level. 33. Published 4/11/2015
---
Just When You Thought Filipino Cops Were the Worst, Here Come US Cops

What in the world has happened to cops in the United States? It seems that today only psychotic, unstable, individuals are joining the U.S. police force this days. People from all across the globe were more than willing to give American cops the benefit of the doubt, at first. But in instance after instance, from Ferguson, MS and the killing of Michael Brown, a young black man who witnesses say was unarmed and posed no threat at all to police; to today's cold-blooded murder of Walter F. Scott, 50 by South Carolina police officer Michael T. Slager, 33. Published 4/7/2015
---
NPA Celebrates 46 Years of Destroying the Philippines

Founded by Bernabe Buscayno, or "Kumander Dante" as he was more commonly known, the New People's Army established on March 29, 1969 marks its 46th year of existence. From less than 40 founding members and a handful of firearms, the NPA grew to over 26,000 members in the 1980s. Today however the Armed Forces of the Philippines (AFP) places NPA membership at less than 5,000 nationwide. That number is expected to dwindle even further as progress and education creep in to the far-flung towns and barrios that were once breeding grounds for recruits. Published 3/30/2015
---
Lee Kuan Yew and Ferdinand Marcos, What a Difference!

An Australian living in the Philippines published a book titled: "The Unlucky Country. The Republic of the Philippines in the 21st Century." The author Duncan McKenzie came up with the title as the counterpoint to "The Lucky Country" a book written in the mid-sixties that refers to Australia. In his book McKenzie explains that the Philippines is unlucky because, for starters, it is an archipelago and therefore naturally fragmented. Published 3/17/2015
---
Will the Philippines Ever Speed Up Its Glacially-Slow Justice System?

We've all heard the saying "justice delayed is justice denied." That maxim has been around since time immemorial. In fact the Pirkei Avot (Hebrew for "Ethics of the Fathers") which dates back to the 1st century B.C. mentions an old rabbi saying that goes: "the sword comes into the world, because of justice delayed and justice denied." In 1215 A.D. a clause from the Magna Carta similarly declares that "to no one will we refuse or delay, right or justice." Published 3/17/2015
---