Reeling from the resounding victory of the Reproductive Health (RH) Bill,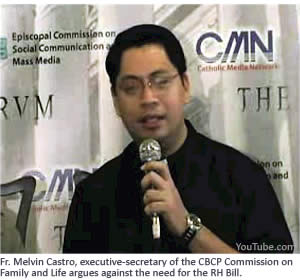 the Philippine Catholic Church has decidedly jumped in the electoral fray (despite the constitutional separation of church and state) to influence the outcome of the country's 2013 elections. The church recently launched a "Team Buhay/Team Patay" (Team Life/Team Death) campaign that identifies legislators running for re-election who voted against or for the RH Bill. Those who voted against the bill are part of Team Life, while those who voted for the bill are part of Team Death—at least as far as the Church is concerned.
Deciding they weren't going to take such blatant coercion from the church sitting down, supporters of the RH Bill created a Team Tatay (Team Father) where they planned to indentify Philippine Catholic priests who had fathered children and expose them to the public. In a church forum in Intramuros, Manila on Tuesday, March 12, 2013 it seemed to all come to a head when Fr. Melvin Castro, an executive-secretary of the Catholic Bishops Conference of the Philippines (CBCP) publicly admitted that, yes indeed some Filipino Catholic priests had fathered children despite their vow of chastity. But Castro quickly added that priests who father children are really not the issue. The real issue—from the Philippine Catholic Church's perspective—is the move to defeat legislators who voted for the RH Bill in the upcoming election.
In a way we agree with Fr. Castro. Filipino priests fathering children is not the main issue here. The real issue for us is what the Church does after it finds out that a priest has fathered a child. Are these erring priests reprimanded or expelled from the priesthood? Are they shunned by fellow clergymen for violating their holy vow of chastity? Are they seen as morally weak and thus undeserving of the priesthood? Or are they instead tolerated and allowed to carry on as though nothing happened? Are they allowed to continue administering the sacraments? Do they continue to celebrate Mass, hear confessions, baptize babies and solemnize weddings? We would like to know what fate befalls Filipino priests who fall from grace. Does the Philippine Catholic church keep documented histories of what actions it takes after it discovers that a priest has fathered a child?
With the Filipino penchant for keeping quiet, looking the other way, and sweeping things under the rug, it is highly probable that the church does nothing to punish the erring clergy. More likely, fathering children is even tacitly tolerated by the Philippine Catholic hierarchy.
An American Cardinal Roger Mahony—currently in Rome as part of the conclave of Cardinals choosing the next Pope—recently agreed to settle out of court four child abuse cases that will cost his diocese close to $10 million. A embarrassing revelation for the Cardinal at the worst possible time. Though hardly in the running for the papacy, the negative publicity Mahony is now getting has suddenly removed even the remotest chance of his being considered to head the Holy See.
And although our own Cardinal Luis Antonio Tagle is seen as a long shot for the Papacy this time around, at 55 years of age, he will most likely be around for the next conclave, with a much better chance of making Pope. But that will only happen if the Filipino Cardinal can effectively "clean house" and remove all the skeletons his fellow clergymen have left in his closet. Like Mahoney's, a scandal at the wrong time about Filipino priests who break their vows and make babies, then go unpunished could ruin the good and deserving Cardinal's chances of ever making Pope. Published 3/13/2013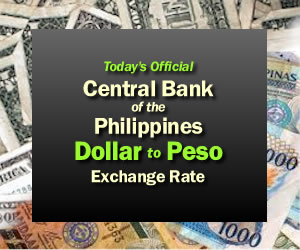 RECENT EDITORIALS
Napoles PDAF/NGO Scandal: What is Ten or Fifteen Billion Pesos Really Worth?



For those who have been following the Janet Lim-Napoles PDAF/NGO* scandal these past months, it is easy to get caught up in all the rhetoric—the words and phrases repeated day after day. Words like "ten billion" or "fifteen billion" have turned into something akin to "gray" background noise.  Words devoid of any real meaning or significance. So let us try to put back some meaning into those trite and often-repeated phrases in order to better understand some of the far-reaching ramifications of Napoles' actions. Published 06/30/2014
---
How could they not have known that the Napoles NGOs were fake?

With Senator Bong Revilla already in police custody in Camp Crame and Senators Jinggoy Estrada and Juan Ponce Enrile set to join him any day now, people need to start asking tough questions going forward. The privilege speeches of the senators along with the histrionics that accompanied them are thankfully now over so we can all address this issue more objectively. Published 06/21/2014
---
The Self-Perpetuating Elite of the Philippines

In an essay published in the July 1968 issue of the American magazine Foreign Affairs, a novice Philippine senator described his country as "a land in which a few are spectacularly rich while the masses remain abjectly poor. . . . a land consecrated to democracy but run by an entrenched plutocracy… a people whose ambitions run high, but whose fulfillment is low and mainly restricted to the self-perpetuating elite…a land of privilege and rank – a republic dedicated to equality but mired in an archaic system of caste." Published 06/14/2014
---
PHL Legislators Implicated in the Napoles PDAF Scam Face Definite Jail Time...Maybe

In the United States former four-star General and until recently Secretary of Veterans Affairs Eric Shinseki was forced to resign as head of the VA by the ongoing healthcare scandal that has enveloped that agency. While one can safely assume that Shinseki was not involved in the actually transgressions being investigated, the fact that he headed the agency meant he had command responsibility over its entire staff. And their wrongful acts, whether he knew about them or not, cost him his job. That is the way things work in properly functioning democracies. In the Philippines however, things tend to get a little unusual. Published 06/03/2014
---
Why All the Fuss? We Knew They were Corrupt Anyway!

So finally the cat is out of the bag, so to speak. But we Pinoys should not be surprised at all. We all know how corrupt our country is. Even before former president Gloria Macapagal-Arroyo was accused of electoral sabotage and the misuse of public funds in 2011; even before Joseph "Erap" Estrada—an earlier president was convicted of plunder by the Sandiganbayan in 2007; even before Ferdinand Marcos, a president-turned-dictator, was booted out of the country along with his family and cronies twenty-eight years ago; we Pinoys knew they were corrupt. Published 05/17/2014
---
The Case of Denise Cornejo and Cedric Lee, a Litmus Test for Pnoy and Philippine Justice

Now that the star attraction in the alleged Vhong Navarro rape incident is in police custody, the upcoming trial will be a litmus test for the Aquino administration as well as the Courts. The almost universal perception is that Philippine justice is broken and does not work. Laws are applied inequitably with the wealthy and powerful living almost above the law, while the common "tao" finds himself at the losing end of cases that usually drag on for years. Published 05/06/2014
---
Obama's Visit a Shot in the Arm for a Struggling Ally

After essentially showing the American Military the door in the early '90s, Filipinos have of late come to the realization that they need their "Uncle Sam" more than they thought they did. And back then the United States was also more than happy to oblige as their Base Realignment and Closure (BRAC) Commission had been closing down hundreds of military installations all across the USA. Published 04/29/2014
---
We Treasure Our Sierra Madre

In the1948 John Houston movie, The Treasure of the Sierra Madre, three destitute Americans working as gold prospectors mining the Sierra Madre mountains in Mexico are confronted by bandits posing as mounted police ("Federales"). When they are asked to produce their badges, the chief bandit's response is classic: "Badges? We don't need no stinking badges!" Published 04/20/2014
---