Reeling from the resounding victory of the Reproductive Health (RH) Bill,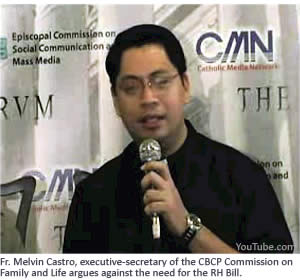 the Philippine Catholic Church has decidedly jumped in the electoral fray (despite the constitutional separation of church and state) to influence the outcome of the country's 2013 elections. The church recently launched a "Team Buhay/Team Patay" (Team Life/Team Death) campaign that identifies legislators running for re-election who voted against or for the RH Bill. Those who voted against the bill are part of Team Life, while those who voted for the bill are part of Team Death—at least as far as the Church is concerned.
Deciding they weren't going to take such blatant coercion from the church sitting down, supporters of the RH Bill created a Team Tatay (Team Father) where they planned to indentify Philippine Catholic priests who had fathered children and expose them to the public. In a church forum in Intramuros, Manila on Tuesday, March 12, 2013 it seemed to all come to a head when Fr. Melvin Castro, an executive-secretary of the Catholic Bishops Conference of the Philippines (CBCP) publicly admitted that, yes indeed some Filipino Catholic priests had fathered children despite their vow of chastity. But Castro quickly added that priests who father children are really not the issue. The real issue—from the Philippine Catholic Church's perspective—is the move to defeat legislators who voted for the RH Bill in the upcoming election.
In a way we agree with Fr. Castro. Filipino priests fathering children is not the main issue here. The real issue for us is what the Church does after it finds out that a priest has fathered a child. Are these erring priests reprimanded or expelled from the priesthood? Are they shunned by fellow clergymen for violating their holy vow of chastity? Are they seen as morally weak and thus undeserving of the priesthood? Or are they instead tolerated and allowed to carry on as though nothing happened? Are they allowed to continue administering the sacraments? Do they continue to celebrate Mass, hear confessions, baptize babies and solemnize weddings? We would like to know what fate befalls Filipino priests who fall from grace. Does the Philippine Catholic church keep documented histories of what actions it takes after it discovers that a priest has fathered a child?
With the Filipino penchant for keeping quiet, looking the other way, and sweeping things under the rug, it is highly probable that the church does nothing to punish the erring clergy. More likely, fathering children is even tacitly tolerated by the Philippine Catholic hierarchy.
An American Cardinal Roger Mahony—currently in Rome as part of the conclave of Cardinals choosing the next Pope—recently agreed to settle out of court four child abuse cases that will cost his diocese close to $10 million. A embarrassing revelation for the Cardinal at the worst possible time. Though hardly in the running for the papacy, the negative publicity Mahony is now getting has suddenly removed even the remotest chance of his being considered to head the Holy See.
And although our own Cardinal Luis Antonio Tagle is seen as a long shot for the Papacy this time around, at 55 years of age, he will most likely be around for the next conclave, with a much better chance of making Pope. But that will only happen if the Filipino Cardinal can effectively "clean house" and remove all the skeletons his fellow clergymen have left in his closet. Like Mahoney's, a scandal at the wrong time about Filipino priests who break their vows and make babies, then go unpunished could ruin the good and deserving Cardinal's chances of ever making Pope. Published 3/13/2013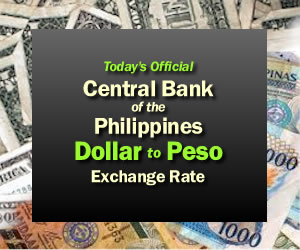 RECENT EDITORIALS
12 Million Metro Manila Commuters Stuck in Gridlock Hell



For much of the last month, my Facebook friends in Metro Manila have been posting comments lamenting their helplessness at being condemned to spend a great portion of what is left of their productive lives stuck in hours of traffic with no hope in sight. They now appreciate why Dan Brown described Manila in his book, Inferno, as "the gates of hell" specifically referring to its "six-hour traffic jams (and) suffocating pollution". Published 11/062014
---
Why Filipino-Americans Need to Vote Democratic on November 4

Since 1620 when the pilgrims landed on Plymouth Rock, people the world over have migrated to America in search of a better life. Filipinos are no exception. In the '70s and '80s Filipinos who were able to, left for the U.S. to escape the tyranny of the Marcos regime; today they leave is to escape the poverty and the lack of opportunity in their homeland. Whatever the reason, Filipino migrants quickly shed their old habits and attitudes and embraced American culture. Published 10/30/2014
---
Both United States and Philippine Governments to Blame for Death of Jeffery "Jennifer" Laude

The United States and Philippine governments share the blame for the tragedy. Two young lives needlessly destroyed: the first, a young Filipino transgender found strangled inside a motel bathroom; the second a teenaged American serviceman now accused of murder. Published 10/19/2014
---
Death of Filipino Transgender 'Jennifer' Laude Was Totally Preventable
The evening for the young US Marine and his Filipino date "Jennifer" began at the Ambyanz Disco Bar in Subic Bay, Olongapo and ended shortly before midnight at the Celzone Lodge where "Jennifer's" lifeless body was found leaning against the toilet bowl. Jennifer, it turns out was actually not originally a "she" but a "he." A Filipino transgender, Jeffrey Laude, 26, began calling himself "Jennifer" after medical procedures made him look more female than male. Published 10/14/2014
---
Sorry Mr. President But PNP Chief Alan Purisima Has to Go

What's with Philippine civil servants these days? It seems that you can stick all their pictures on a wall; throw a dart; and whoever's photo it land on, that person can be successfully prosecuted for graft. It is unbelievable how pervasive and widespread corruption has become. We go from one corruption scandal to the next and there seems to be no end in sight. Published 10/07/2014
---
Tear Down the Torre de Manila Building Being Built Behind the Rizal Monument?

According to the developer's website, "Torre de Manila, DMCI Homes' newest one-tower condominium, is an exclusive residential community right in the heart of the city." As of this writing, the 49-story edifice is about halfway complete. But as it continues to rise, so too do the howls of protest from an eclectic collection of groups and individuals who want it torn down. Why? Torre de Manila will permanently mar the skyline behind the Rizal Monument. Published 10/01/2014
---
How Ferdinand Marcos's Martial Law Continues Hurting Filipinos to This Day

On the evening of September 23, 1972, two days after it had taken effect, Ferdinand Marcos announced via live television from Malacañang Palace that he had placed the Philippines under Martial Law. It was a calculated move by a devious politician to keep himself in power beyond what the Constitution allowed. A staged ambush attempt against his Defense Secretary Juan Ponce Enrile was the main excuse Marcos (or "Macoy" as he was deridingly referred to back then) used to strip Filipinos of all their constitutional rights. With that, the diminutive Ilocano from the backwaters of Batac, Ilocos Norte became the despotic dictator for over a decade. Published 09/23/2014
---
Jejomar Binay Should Never Become President of the Philippines

In our July 25th editorial we asked if Vice President Jejomar Binay should be the next president of the Philippines. In this editorial we arrive at the definitive conclusion that that Binay should not be elected president. Since our last editorial, more witnesses have come forward with more allegations against the embattled Vice President. But our decision not to support Binay's presidential bid is based on irrefutable public acts that in our opinion disqualify him from the presidency. Published 09/16/2014
---