Reeling from the resounding victory of the Reproductive Health (RH) Bill,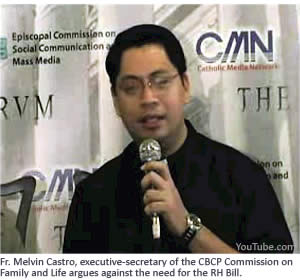 the Philippine Catholic Church has decidedly jumped in the electoral fray (despite the constitutional separation of church and state) to influence the outcome of the country's 2013 elections. The church recently launched a "Team Buhay/Team Patay" (Team Life/Team Death) campaign that identifies legislators running for re-election who voted against or for the RH Bill. Those who voted against the bill are part of Team Life, while those who voted for the bill are part of Team Death—at least as far as the Church is concerned.
Deciding they weren't going to take such blatant coercion from the church sitting down, supporters of the RH Bill created a Team Tatay (Team Father) where they planned to indentify Philippine Catholic priests who had fathered children and expose them to the public. In a church forum in Intramuros, Manila on Tuesday, March 12, 2013 it seemed to all come to a head when Fr. Melvin Castro, an executive-secretary of the Catholic Bishops Conference of the Philippines (CBCP) publicly admitted that, yes indeed some Filipino Catholic priests had fathered children despite their vow of chastity. But Castro quickly added that priests who father children are really not the issue. The real issue—from the Philippine Catholic Church's perspective—is the move to defeat legislators who voted for the RH Bill in the upcoming election.
In a way we agree with Fr. Castro. Filipino priests fathering children is not the main issue here. The real issue for us is what the Church does after it finds out that a priest has fathered a child. Are these erring priests reprimanded or expelled from the priesthood? Are they shunned by fellow clergymen for violating their holy vow of chastity? Are they seen as morally weak and thus undeserving of the priesthood? Or are they instead tolerated and allowed to carry on as though nothing happened? Are they allowed to continue administering the sacraments? Do they continue to celebrate Mass, hear confessions, baptize babies and solemnize weddings? We would like to know what fate befalls Filipino priests who fall from grace. Does the Philippine Catholic church keep documented histories of what actions it takes after it discovers that a priest has fathered a child?
With the Filipino penchant for keeping quiet, looking the other way, and sweeping things under the rug, it is highly probable that the church does nothing to punish the erring clergy. More likely, fathering children is even tacitly tolerated by the Philippine Catholic hierarchy.
An American Cardinal Roger Mahony—currently in Rome as part of the conclave of Cardinals choosing the next Pope—recently agreed to settle out of court four child abuse cases that will cost his diocese close to $10 million. A embarrassing revelation for the Cardinal at the worst possible time. Though hardly in the running for the papacy, the negative publicity Mahony is now getting has suddenly removed even the remotest chance of his being considered to head the Holy See.
And although our own Cardinal Luis Antonio Tagle is seen as a long shot for the Papacy this time around, at 55 years of age, he will most likely be around for the next conclave, with a much better chance of making Pope. But that will only happen if the Filipino Cardinal can effectively "clean house" and remove all the skeletons his fellow clergymen have left in his closet. Like Mahoney's, a scandal at the wrong time about Filipino priests who break their vows and make babies, then go unpunished could ruin the good and deserving Cardinal's chances of ever making Pope. Published 3/13/2013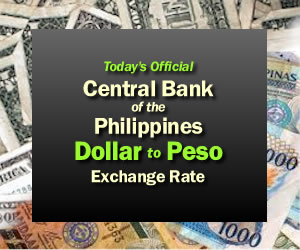 RECENT EDITORIALS
Pope Francis Admonishes Pinoys to End Scandalous Inequalities



We had a feeling this was coming. In his first major speech in the Philippines, Pope Francis called for an end to 'scandalous inequalities' in the country. And what better example of a scandalous inequality is there than that a preposterously ridiculous wedding of Dingdong Dantes and Marian Rivera which was officiated by 8 bishops and 7 priests. In addition, this crass wedding featured a 12-foot high wedding cake, a 2-million-peso wedding gown with an exaggeratedly long train that seemed to go on forever...you get the picture. And since the average Filipino subsists on a shockingly paltry $2 a day, what could be more scandalously inequitable than that? Published 1/16/2015
---
An Open Letter to Pope Francis; Please Read It Before Coming to the Philippines

Dear Pope Francis, your much anticipated visit to the Philippines is just a few days away. We expect that you will have been adequately briefed about the Philippines by the time you arrive. However, there might be a few things your Vatican handlers might have missed—or intentionally "forgot" to mention to you so we hope this letter reaches you in time for your historic visit. Before anything else, welcome! Published 1/9/2015
---
A Dingdong Fancy Wedding for a Third World Country

What is it with us Filipinos? We are a country of "all flash and no substance." Case in point: This ridiculously lavish wedding between two so-so movie stars that sought to outdo even the most "royal" of royal weddings. What was the whole point of this crassly extravagant display? Lest anyone forget, the Philippines is still a Third World country. And many, many squatter's homes (if you can call them "homes") do not have running water or even a toilet! Published 1/4/2015
---
Vice President Jejomar Binay's Aguinaldo

Money received from benefactors during Christmas in the Philippines is called "aguinaldo", a term and practice imported from Mexico during the Spanish colonial period where it now refers to the annual Christmas bonus given to employees. In the Philippines, it is now generally used to describe monetary gifts given by all benefactors, including godparents and employers. Published 12/25/2014
---
Do Filipinos Want America on Their Side or Not?

Given the Filipino penchant for "dramatics," not to mention the circus atmosphere that inevitably encompasses any event of even minor significance, one can hardly blame American government officials for refusing to hand over US Marine Lance Corporal Joseph Scott Pemberton over to Philippine authorities. The intriguing question in all this however is why some Filipinos are so insistent on having custody over the accused. Published 12/19/2014
---
Today's American Police Force Leaves So Much to be Desired

Long gone are the days when communities all across America looked up to the police officers who patrolled their streets and kept their neighborhoods safe. For cops back then it was a calling—almost like the priesthood—and those who answered that calling were brave, noble, larger-than-life individuals who kept Americans safe. Published 12/14/2014
---
Obama, a Lincoln to millions of undocumented  immigrants?

President Barack Obama's recent Executive Order legalizing millions of undocumented immigrants will mark him in history as a great President. Undocumented immigrants are the modern day slaves in American society. In constant fear, living in substandard conditions, paid low wages for backbreaking work, subjected to all kinds of abuse and exploitation - they contribute so much to American society. Published 12/02/2014
---