Celebrating his first mass as Pontiff a day after being elected, 76-year-old Pope Francis told the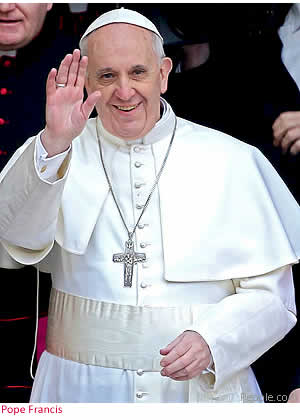 assembled cardinals to guard against "the worldliness of the Devil." Here was a man who made it an annual practice to celebrate Holy Thursday by washing the feet of the poor, and the downtrodden of his native Argentina. Here too was a man who took the bus to and from his work despite having chauffeured vehicles available to him. He preferred living in a modest apartment, cooking his own meals despite access to the well staffed bishop's mansion in the ritzy the suburb of Olivos where no less than the Argentine president has his summer residence. He chose the name Francis in honor of Saint Francis of Assisi who though born into wealth, chose a life of poverty to live with the helpless and downtrodden.
Compare that to the past and present Philippine Catholic Church Hierarchy that live in palaces and mansions scattered throughout the archipelago. They live a life of opulence behind guarded high walls far removed from the poverty and squalor found in Philippine cities. These are prelates who consider themselves as part of the ruling gentry. They hobnob with the rich and powerful at parties and cocktails; they fly first-class when vacationing to the Americas or Europe; they wrap themselves in the trappings of power and aristocracy, just as their Spanish predecessors did going back centuries.
So when Pope Francis tells his cardinals to guard against "the worldliness of the Devil," What exactly are the Philippine bishops and archbishops to make of that statement? In our opinion, they (beginning with the CBCP—the Catholic Bishops Conference of the Philippines) should start following his lead. It is about time these haughty church leaders got down on their knees and washed the feet of ordinary Filipinos. They can then start moving out of their palaces and mansions and into apartments on the poor side of town…and take a tricycle or jeepney to and from that never-ending conference of theirs—instead of asking for free SUVs (sports utility vehicles) paid for by the cash-strapped taxpayers of the Philippines.
Should the Philippine bishops find it impossible to follow Pope Francis' lead, they still have another option left open to them. They can follow Pope Benedict XVI's lead and resign. Either way, the Philippine Catholic Church will most likely be better off for it. Published 3/25/2013