During this Holy Week like others in the past, for as long as this author can remember,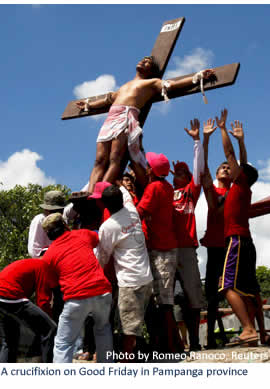 a small minority of Filipinos have been whipping themselves raw or nailing themselves to crosses in a supposed show of atonement and piety. This odd spectacle now draws worldwide interest with curious tourists flying in from all over to witness firsthand flagellants who whip themselves to down to raw flesh or penitents who are nailed to wooden crosses on Good Friday.
And while these individuals may have the purest of intentions, their bizarre acts have been turned into a carnival act that actually cheapens and disrespects the actual suffering and death of Jesus Christ. The fact that these penitents can go through a "staged" crucifixion on a yearly basis gives some the sense crucifixion was not all that hard after all. The thin and sterilized stainless steel nails these misguided penitents use keep hand wounds small and prevent infections. They also stand on a pedestal and are harnessed to prevent them from ever hanging from the actual nails and getting seriously hurt.
At the end of the day, it is a circus act—a crude and distasteful circus act most civilized cultures are repulsed by. The day we Filipinos develop an ounce of common sense, we too will likely put a swift end to this sheer and utter nonsense.
It is important to note at this point that the country's credit rating was recently raised to BB+ or investment grade by Fitch Ratings. This is the first time the country has held such a rating. And if we Filipinos are to maintain or even raise that rating, we have to start acting the part. Continuing many of these strange and peculiar practices will certainly not endear us to foreign investors looking for a serious place to park their money. The country will instead be seen as that strange place with a backward people who engage in bizarre and distasteful practices.
The Catholic Church has for the most part simply stood on the sidelines mumbling under their breath that such practices are not church sanctioned. But they make it a point not to object too loudly least they incur the wrath of the multitudes that weekly fill their collection plates.
With the Church unwilling or unable to stamp-out these practices, our present good economic fortune as well as our investment-grade rating may be nothing but a flash in the pan. In the end, the weird and wacky things some of us do will eventually drag the entire country back down to a third-world curiosity where strange things take place. At that point we'll be more likely to find ourselves on the cover of tabloids like the Daily Enquirer than the pages of the Wall Street Journal or Fortune Magazine. Published 3/30/2013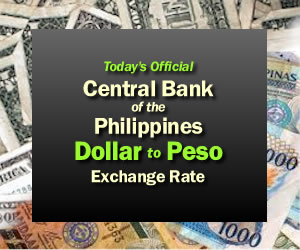 RECENT EDITORIALS
President Aquino Should Fly to Saudi Arabia and Pay His Last Respects to King Abdullah



Presidents and prime ministers, kings and queens; from Prince Charles and Prime Minister David Cameron of Britain, President Francois Hollande of France, President Abdel Fattah el-Sissi of Egypt, President Recep Tayyip Erdogan of Turkey and many other heads of state from all corners of the globe have gone or are headed to Riyadh to pay their respects to the late King Abdullah. Even U.S. President Barack Obama cut short his state visit to India to fly to Saudi Arabia. Published 1/27/2015
---
After the Pope's Visit: What We Filipinos Now Must Do
We put on a good show for Pope Francis. He loved it; we loved it; the world loved it. Now the long and painful task of bringing about the changes the pope asked for begins. Start with the Philippine Catholic Church. It should refocus its efforts towards the poor. As we wrote in previous editorials, many priests and bishops see themselves as members of the rich and privileged class. They feel more at home in country clubs and dining in expensive restaurants, than they do helping the poor who live in the squatter communities that dot most cities in the Philippines. Published 1/22/2015
---
Pope Francis Admonishes Pinoys to End Scandalous Inequalities

We had a feeling this was coming. In his first major speech in the Philippines, Pope Francis called for an end to 'scandalous inequalities' in the country. And what better example of a scandalous inequality is there than that a preposterously ridiculous wedding of Dingdong Dantes and Marian Rivera which was officiated by 8 bishops and 7 priests. In addition, this crass wedding featured a 12-foot high wedding cake, a 2-million-peso wedding gown with an exaggeratedly long train that seemed to go on forever...you get the picture. Published 1/16/2015
---
An Open Letter to Pope Francis; Please Read It Before Coming to the Philippines

Dear Pope Francis, your much anticipated visit to the Philippines is just a few days away. We expect that you will have been adequately briefed about the Philippines by the time you arrive. However, there might be a few things your Vatican handlers might have missed—or intentionally "forgot" to mention to you so we hope this letter reaches you in time for your historic visit. Before anything else, welcome! Published 1/9/2015
---
A Dingdong Fancy Wedding for a Third World Country

What is it with us Filipinos? We are a country of "all flash and no substance." Case in point: This ridiculously lavish wedding between two so-so movie stars that sought to outdo even the most "royal" of royal weddings. What was the whole point of this crassly extravagant display? Lest anyone forget, the Philippines is still a Third World country. And many, many squatter's homes (if you can call them "homes") do not have running water or even a toilet! Published 1/4/2015
---
Vice President Jejomar Binay's Aguinaldo

Money received from benefactors during Christmas in the Philippines is called "aguinaldo", a term and practice imported from Mexico during the Spanish colonial period where it now refers to the annual Christmas bonus given to employees. In the Philippines, it is now generally used to describe monetary gifts given by all benefactors, including godparents and employers. Published 12/25/2014
---
Do Filipinos Want America on Their Side or Not?

Given the Filipino penchant for "dramatics," not to mention the circus atmosphere that inevitably encompasses any event of even minor significance, one can hardly blame American government officials for refusing to hand over US Marine Lance Corporal Joseph Scott Pemberton over to Philippine authorities. The intriguing question in all this however is why some Filipinos are so insistent on having custody over the accused. Published 12/19/2014
---