During this Holy Week like others in the past, for as long as this author can remember,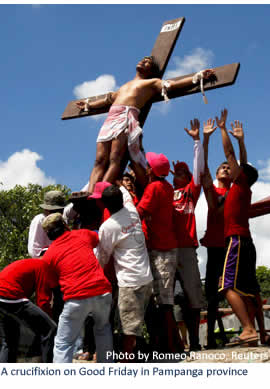 a small minority of Filipinos have been whipping themselves raw or nailing themselves to crosses in a supposed show of atonement and piety. This odd spectacle now draws worldwide interest with curious tourists flying in from all over to witness firsthand flagellants who whip themselves to down to raw flesh or penitents who are nailed to wooden crosses on Good Friday.
And while these individuals may have the purest of intentions, their bizarre acts have been turned into a carnival act that actually cheapens and disrespects the actual suffering and death of Jesus Christ. The fact that these penitents can go through a "staged" crucifixion on a yearly basis gives some the sense crucifixion was not all that hard after all. The thin and sterilized stainless steel nails these misguided penitents use keep hand wounds small and prevent infections. They also stand on a pedestal and are harnessed to prevent them from ever hanging from the actual nails and getting seriously hurt.
At the end of the day, it is a circus act—a crude and distasteful circus act most civilized cultures are repulsed by. The day we Filipinos develop an ounce of common sense, we too will likely put a swift end to this sheer and utter nonsense.
It is important to note at this point that the country's credit rating was recently raised to BB+ or investment grade by Fitch Ratings. This is the first time the country has held such a rating. And if we Filipinos are to maintain or even raise that rating, we have to start acting the part. Continuing many of these strange and peculiar practices will certainly not endear us to foreign investors looking for a serious place to park their money. The country will instead be seen as that strange place with a backward people who engage in bizarre and distasteful practices.
The Catholic Church has for the most part simply stood on the sidelines mumbling under their breath that such practices are not church sanctioned. But they make it a point not to object too loudly least they incur the wrath of the multitudes that weekly fill their collection plates.
With the Church unwilling or unable to stamp-out these practices, our present good economic fortune as well as our investment-grade rating may be nothing but a flash in the pan. In the end, the weird and wacky things some of us do will eventually drag the entire country back down to a third-world curiosity where strange things take place. At that point we'll be more likely to find ourselves on the cover of tabloids like the Daily Enquirer than the pages of the Wall Street Journal or Fortune Magazine. Published 3/30/2013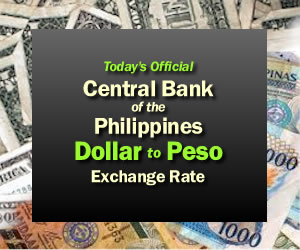 RECENT EDITORIALS
Happy Birthday GMA, 'Hope You Spend the Rest of Your Life Behind Bars



It has been a dizzying drop from the euphoric highs of 2001 when Filipinos forced President Joseph Estrada from office and installed Gloria Macapagal-Arroyo in his place. Estrada was widely seen as a corrupt, philandering politician; a high school dropout who was unqualified to be president. Arroyo on the other hand had the pedigree, education, and morals—we all assumed—to handle the job. Published 04/7/2014
---
Turn Pag-asa Island Into a Tourist Destination! It's More Fun In Pag-asa

While the Aquino administration has been making many of the right moves lately, such moves remain woefully inadequate given the situation the Philippines faces with China. If President Benigno Aquino III entertains any hope of keeping our islands in the Spratlys, he needs to get off his behind this minute and start building a strong coalition with other nations. Published 04/3/2014
---
Why Bong Revilla Will Never Become President of the Philippines

A country's president must be a statesman. Someone who is genuinely concerned about the welfare of his people—especially those who have the least in life. A president must also be fair. Fairness after all underpins what justice is all about. Everyone, be they exceedingly wealthy or totally destitute deserves equal treatment under the law. Published 03/22/2014
---
The Philippines Is Not a Friendly Place To Do Business In

On the surface, the Philippines can seem like an enjoyable and friendly place to do business. But scratch the surface and you'll find yourself in a strange and alien world where a whole new set of rules and attitudes apply. Just recently, the Fraser Institute, a well-known North American think-tank, ranked the Philippines third from the bottom, on its annual survey of the best places to do business for mining companies. Published 03/10/2014
---
To All Those Who Were Part of the EDSA People Power Revolution—Thank You!

On February 25, the Philippines will celebrate the 28th anniversary of the People Power revolution known as EDSA One. For four days in February, 1986, freedom-starved Filipinos amassed on Epifanio de los Santos Avenue (EDSA), in front of Camps Crame and Aguinaldo to shield Secretary Juan Ponce Enrile, General Fidel Ramos, and their military supporters from possible assault by forces controlled by the late dictator Ferdinand Marcos. Published 02/25/2014
---
The Arc of the Moral Universe and the Salvador "Bubby" Dacer Case

How long before the people responsible for the Dacer-Corbito murders are brought to justice? The hopeful answer may be found in a speech delivered by Dr. Martin Luther King Jr. on the steps of the Alabama State Capitol on March 25, 1965 when he said: "How long? Not long, because no lie can live forever. How long? Not long, because you shall reap what you sow. How long? Not long, because the arc of the moral universe is long, but it bends toward justice." Published 02/16/2014
---
Will Ruby Tuason's Revelations Make a Difference? Remember This Is the Philippines

Another whistleblower Ruby Tuason will soon testify before the Department of Justice, and the Philippine Senate. And probably before the Ombudsman, the Batasan committees, the Sandiganbayan and other courts as well. Her appearances will likely involve high drama, moving testimony, and bombshell revelations that will be plastered across the front pages of Philippine dailies and reverberate throughout social media. Published 02/10/2014
---
Macho, Macho Men and the Matriarchal Philippine Society

An online article a week ago concluded that the reason that Deniece Cornejo the vixen in the Vhong Navarro mauling incident was being mercilessly vilified was because Philippine society tends to treat women that way (LINK). The writer a certain Tricia Aquino in collaboration with Judy Taguiwalo a University of the Philippines professor in the Department of Women and Development Studies, try to paint a bleak picture of Filipina women as persecuted second-class citizens who end up being blamed for the troubles that befall them. Published 02/5/2014
---
We Must Learn from the Past, for the Future of Mindanao

Will the signing of the last annex of the peace accord between the Philippine Government and the Moro Islamic Liberation Front (MILF) finally bring lasting peace to troubled Mindanao? Everyone hopes so. But let's go back several decades in time and see how the country fared in a similar situation back then. Published 02/2/2014
---