During this Holy Week like others in the past, for as long as this author can remember,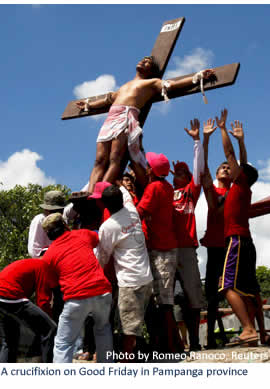 a small minority of Filipinos have been whipping themselves raw or nailing themselves to crosses in a supposed show of atonement and piety. This odd spectacle now draws worldwide interest with curious tourists flying in from all over to witness firsthand flagellants who whip themselves to down to raw flesh or penitents who are nailed to wooden crosses on Good Friday.
And while these individuals may have the purest of intentions, their bizarre acts have been turned into a carnival act that actually cheapens and disrespects the actual suffering and death of Jesus Christ. The fact that these penitents can go through a "staged" crucifixion on a yearly basis gives some the sense crucifixion was not all that hard after all. The thin and sterilized stainless steel nails these misguided penitents use keep hand wounds small and prevent infections. They also stand on a pedestal and are harnessed to prevent them from ever hanging from the actual nails and getting seriously hurt.
At the end of the day, it is a circus act—a crude and distasteful circus act most civilized cultures are repulsed by. The day we Filipinos develop an ounce of common sense, we too will likely put a swift end to this sheer and utter nonsense.
It is important to note at this point that the country's credit rating was recently raised to BB+ or investment grade by Fitch Ratings. This is the first time the country has held such a rating. And if we Filipinos are to maintain or even raise that rating, we have to start acting the part. Continuing many of these strange and peculiar practices will certainly not endear us to foreign investors looking for a serious place to park their money. The country will instead be seen as that strange place with a backward people who engage in bizarre and distasteful practices.
The Catholic Church has for the most part simply stood on the sidelines mumbling under their breath that such practices are not church sanctioned. But they make it a point not to object too loudly least they incur the wrath of the multitudes that weekly fill their collection plates.
With the Church unwilling or unable to stamp-out these practices, our present good economic fortune as well as our investment-grade rating may be nothing but a flash in the pan. In the end, the weird and wacky things some of us do will eventually drag the entire country back down to a third-world curiosity where strange things take place. At that point we'll be more likely to find ourselves on the cover of tabloids like the Daily Enquirer than the pages of the Wall Street Journal or Fortune Magazine. Published 3/30/2013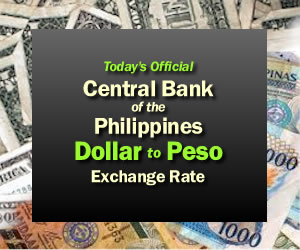 RECENT EDITORIALS
China's Military Base on Mabini Reef Violates the Philippine Constitution



While searching for the missing Malaysia Airlines Flight 370 on March 11, 2014, a Philippine Air Force plane flying over the Kalayaan Island Group in the West Philippine Sea sighted Chinese reclamation activity in the Mabini Reef of the Kalayaan Island Group within the 200 mile Exclusive Economic Zone (EEZ) of the Philippines. His aerial photographs were transmitted to the Philippine government for analysis. Published 07/10/2014
---
Napoles PDAF/NGO Scandal: What is Ten or Fifteen Billion Pesos Really Worth?

For those who have been following the Janet Lim-Napoles PDAF/NGO* scandal these past months, it is easy to get caught up in all the rhetoric—the words and phrases repeated day after day. Words like "ten billion" or "fifteen billion" have turned into something akin to "gray" background noise.  Words devoid of any real meaning or significance. So let us try to put back some meaning into those trite and often-repeated phrases in order to better understand some of the far-reaching ramifications of Napoles' actions. Published 06/30/2014
---
How could they not have known that the Napoles NGOs were fake?

With Senator Bong Revilla already in police custody in Camp Crame and Senators Jinggoy Estrada and Juan Ponce Enrile set to join him any day now, people need to start asking tough questions going forward. The privilege speeches of the senators along with the histrionics that accompanied them are thankfully now over so we can all address this issue more objectively. Published 06/21/2014
---
The Self-Perpetuating Elite of the Philippines

In an essay published in the July 1968 issue of the American magazine Foreign Affairs, a novice Philippine senator described his country as "a land in which a few are spectacularly rich while the masses remain abjectly poor. . . . a land consecrated to democracy but run by an entrenched plutocracy… a people whose ambitions run high, but whose fulfillment is low and mainly restricted to the self-perpetuating elite…a land of privilege and rank – a republic dedicated to equality but mired in an archaic system of caste." Published 06/14/2014
---
PHL Legislators Implicated in the Napoles PDAF Scam Face Definite Jail Time...Maybe

In the United States former four-star General and until recently Secretary of Veterans Affairs Eric Shinseki was forced to resign as head of the VA by the ongoing healthcare scandal that has enveloped that agency. While one can safely assume that Shinseki was not involved in the actually transgressions being investigated, the fact that he headed the agency meant he had command responsibility over its entire staff. And their wrongful acts, whether he knew about them or not, cost him his job. That is the way things work in properly functioning democracies. In the Philippines however, things tend to get a little unusual. Published 06/03/2014
---
Why All the Fuss? We Knew They were Corrupt Anyway!

So finally the cat is out of the bag, so to speak. But we Pinoys should not be surprised at all. We all know how corrupt our country is. Even before former president Gloria Macapagal-Arroyo was accused of electoral sabotage and the misuse of public funds in 2011; even before Joseph "Erap" Estrada—an earlier president was convicted of plunder by the Sandiganbayan in 2007; even before Ferdinand Marcos, a president-turned-dictator, was booted out of the country along with his family and cronies twenty-eight years ago; we Pinoys knew they were corrupt. Published 05/17/2014
---
The Case of Denise Cornejo and Cedric Lee, a Litmus Test for Pnoy and Philippine Justice

Now that the star attraction in the alleged Vhong Navarro rape incident is in police custody, the upcoming trial will be a litmus test for the Aquino administration as well as the Courts. The almost universal perception is that Philippine justice is broken and does not work. Laws are applied inequitably with the wealthy and powerful living almost above the law, while the common "tao" finds himself at the losing end of cases that usually drag on for years. Published 05/06/2014
---
Obama's Visit a Shot in the Arm for a Struggling Ally

After essentially showing the American Military the door in the early '90s, Filipinos have of late come to the realization that they need their "Uncle Sam" more than they thought they did. And back then the United States was also more than happy to oblige as their Base Realignment and Closure (BRAC) Commission had been closing down hundreds of military installations all across the USA. Published 04/29/2014
---