You have to give it to American law enforcement; they really seem to have their act together.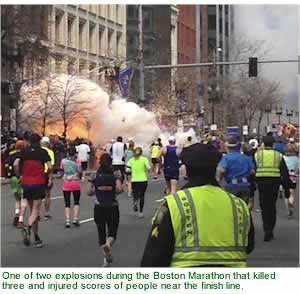 When the horrific explosions occurred during the Boston Marathon it appeared almost impossible that whoever did it would be apprehended. But just a few days after that bombing incident, authorities seem to have cracked the case. One suspect is dead and another is now apprehended. Large swaths of the greater Boston area were on lockdown and door-to-door searches were conducted in the suburb of Watertown.
The swiftness with which US authorities seemed to have been able to get to the bottom of this tragic incident have left many here in the Philippines in awe. This is after all a country where justice seems to move at a grindingly slow pace. Woefully few cases get resolved in the Philippines, and even when police and investigating authorities like the NBI (National Bureau of Investigation) occasionally manage to get suspects apprehended, cases languish in Philippine courts where judges on the take dispense justice based on which side pays them the most.
If the Philippines is ever to pull itself out of the rut it is in, its police, government agencies, and the courts will need to take their cue from places like Boston where law enforcement is swift and efficient. In Boston, residents willingly put up with the inconvenience of their city being on lockdown to allow police authorities to do their job more efficiently. When citizens know those designated to protect them are doing their jobs, they are wholeheartedly.
The legal maxim that says: "Justice delayed is justice denied" has been around at least since the Magna Carta of 1215. The Maguindanao Massacre for instance—a case that everyone thought was a "cut-and-dried" from the very start, has been languishing in court since 2009. The defense strategy seems to be to delay and stall the case till 2016, when a new president and changes in local and national politics takes place. Maybe at that point those in power can be "convinced" to take a more sympathetic stand towards the accused and possibly let them off the hook.
Many Filipinos look at what just happened in Boston and realize that the Philippines still has a long, long way to go. Tourists and investors may slowly trickle in but any influx will remain just that; a trickle compared to that of our neighbors. Unless we get our criminal-justice system to work swiftly and honestly, Filipinos can kiss goodbye any hopes of seeing the Philippines as anything but a third-world country, in their lifetimes. Published 4/20/2013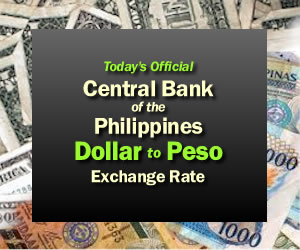 RECENT EDITORIALS
China's Military Base on Mabini Reef Violates the Philippine Constitution



While searching for the missing Malaysia Airlines Flight 370 on March 11, 2014, a Philippine Air Force plane flying over the Kalayaan Island Group in the West Philippine Sea sighted Chinese reclamation activity in the Mabini Reef of the Kalayaan Island Group within the 200 mile Exclusive Economic Zone (EEZ) of the Philippines. His aerial photographs were transmitted to the Philippine government for analysis. Published 07/10/2014
---
Napoles PDAF/NGO Scandal: What is Ten or Fifteen Billion Pesos Really Worth?

For those who have been following the Janet Lim-Napoles PDAF/NGO* scandal these past months, it is easy to get caught up in all the rhetoric—the words and phrases repeated day after day. Words like "ten billion" or "fifteen billion" have turned into something akin to "gray" background noise.  Words devoid of any real meaning or significance. So let us try to put back some meaning into those trite and often-repeated phrases in order to better understand some of the far-reaching ramifications of Napoles' actions. Published 06/30/2014
---
How could they not have known that the Napoles NGOs were fake?

With Senator Bong Revilla already in police custody in Camp Crame and Senators Jinggoy Estrada and Juan Ponce Enrile set to join him any day now, people need to start asking tough questions going forward. The privilege speeches of the senators along with the histrionics that accompanied them are thankfully now over so we can all address this issue more objectively. Published 06/21/2014
---
The Self-Perpetuating Elite of the Philippines

In an essay published in the July 1968 issue of the American magazine Foreign Affairs, a novice Philippine senator described his country as "a land in which a few are spectacularly rich while the masses remain abjectly poor. . . . a land consecrated to democracy but run by an entrenched plutocracy… a people whose ambitions run high, but whose fulfillment is low and mainly restricted to the self-perpetuating elite…a land of privilege and rank – a republic dedicated to equality but mired in an archaic system of caste." Published 06/14/2014
---
PHL Legislators Implicated in the Napoles PDAF Scam Face Definite Jail Time...Maybe

In the United States former four-star General and until recently Secretary of Veterans Affairs Eric Shinseki was forced to resign as head of the VA by the ongoing healthcare scandal that has enveloped that agency. While one can safely assume that Shinseki was not involved in the actually transgressions being investigated, the fact that he headed the agency meant he had command responsibility over its entire staff. And their wrongful acts, whether he knew about them or not, cost him his job. That is the way things work in properly functioning democracies. In the Philippines however, things tend to get a little unusual. Published 06/03/2014
---
Why All the Fuss? We Knew They were Corrupt Anyway!

So finally the cat is out of the bag, so to speak. But we Pinoys should not be surprised at all. We all know how corrupt our country is. Even before former president Gloria Macapagal-Arroyo was accused of electoral sabotage and the misuse of public funds in 2011; even before Joseph "Erap" Estrada—an earlier president was convicted of plunder by the Sandiganbayan in 2007; even before Ferdinand Marcos, a president-turned-dictator, was booted out of the country along with his family and cronies twenty-eight years ago; we Pinoys knew they were corrupt. Published 05/17/2014
---
The Case of Denise Cornejo and Cedric Lee, a Litmus Test for Pnoy and Philippine Justice

Now that the star attraction in the alleged Vhong Navarro rape incident is in police custody, the upcoming trial will be a litmus test for the Aquino administration as well as the Courts. The almost universal perception is that Philippine justice is broken and does not work. Laws are applied inequitably with the wealthy and powerful living almost above the law, while the common "tao" finds himself at the losing end of cases that usually drag on for years. Published 05/06/2014
---
Obama's Visit a Shot in the Arm for a Struggling Ally

After essentially showing the American Military the door in the early '90s, Filipinos have of late come to the realization that they need their "Uncle Sam" more than they thought they did. And back then the United States was also more than happy to oblige as their Base Realignment and Closure (BRAC) Commission had been closing down hundreds of military installations all across the USA. Published 04/29/2014
---