residents and prime ministers, kings and queens; from Prince Charles and Prime Minister David Cameron of Britain, President Francois Hollande of France, President Abdel Fattah el-Sissi of Egypt, President Recep Tayyip Erdogan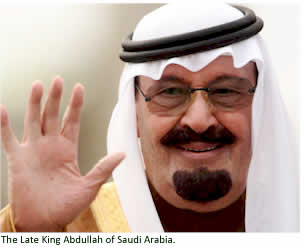 of Turkey and many other heads of state from all corners of the globe have gone or are headed to Riyadh to pay their respects to the late King Abdullah. Even U.S. President Barack Obama cut short his state visit to India to fly to Saudi Arabia.
So why is President Benigno Aquino III just sending his foreign affairs secretary to represent the Country? There is no doubt that DFA Secretary Albert Del Rosario is well respected both in the Philippines and abroad. But the fact that he is not the vice president or even the speaker of the house (the second and third in line from the president) is disconcerting given the large number of overseas Filipinos living and working in Saudi Arabia. For decades, remittances from Overseas Filipino Workers (OFWs) employed in the kingdom have helped boost the Philippine economy to the point where today its GDP growth is one of the highest in the region.
In an article published in InterAksyon.com, writer Veronica C. Uy notes that the late Saudi leader had a "soft spot for Filipinos. " It was under Abdullah's rule that Saudi Arabia and the Philippines concluded a bilateral labor agreement. It was the first such agreement the kingdom had concluded with a manpower-supplying country such as the Philippines. Not only did it give the estimated 670, 000 OFWs working in Saudi Arabia far-reaching rights and safeguards, it also gave undocumented Filipinos living there an opportunity to legalize their status or return to the Philippines without having to pay all the penalties and surcharges incurred because of their illegal stay.
Last but not least, in a supreme act of benevolence towards Filipino OFWs in his kingdom. Abdullah paid 2.3 million riyals of his own money to spare the life of Filipino worker Rodelio "Dondon" Lanuza who was convicted of murder and sentenced to death in 2001. As is the custom in Saudi Arabia, the family of the victim asked for 3 million riyals in blood money to spare Lanuza's life.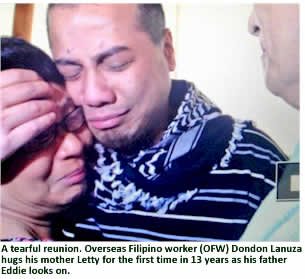 Vice President Jejomar Binay, as presidential adviser on OFW concerns along with expat Filipinos around the globe worked feverishly to come up with the money but only managed to raise 700,000 riyals. King Abdullah eventually stepped in with 2.3 million riyals to cover the difference.
Aquino's detractors quickly point out that his chosen color, yellow, aptly describes him and his administration. In 2012 the entire Philippine delegation was conspicuously absent from the UN Human Rights Council meeting that voted to condemn the grave human rights abuses in Syria. Unnamed sources at the time indicated that the order not to attend came from the "top" as Aquino was afraid that Syrian President Bashar al-Assad and his government might retaliate against Filipinos working in Syria if the Philippines voted for the resolution.
Today Aquino has a great opportunity to show a close ally that the Philippines truly appreciates all that it has done for Filipinos working there. At the same time the president can personally pay his final respects to its former king who demonstrated that he indeed had a "soft spot" for Filipinos. If Aquino showed his concern for Filipinos in Syria in 2012, he should show far more concern for the more than half a million OFWs currently in Saudi Arabia. Sending a cabinet secretary, however well-qualified he may be, unfortunately does not send the right message. Published 1/27/2015




Philnews.com reserves the right to select and edit comments for publication.

Comments from Our Readers
(Topic: After the Pope's Visit: What We Filipinos Now Must Do)
Name: JRH
From: Montreal, Quebec
Remote Name: 70.83.4.90

Comments
Pope Francis' message was very simple...'help the poor & get rid of corruption.' To expect our officials to follow them might be a delusion. The problem is they have no Word of Honor (Palabra de Honor). They will campaign, make promises, or do whatever to convince the voting public. However, the virtue that defines the sanctity of their commitments are soon forgotten. To revive it in order to establish the moral conduct & voters' expectation becomes the problem. Our elected officials know the trappings of graft & corruption. They use it as an excuse to amass ill gotten wealth & fortune. Just look at the 3 stooges now detained. They cheated, lied, & stole millions. The show must go on.
---
Name: Jorge Villanueva
From: Canada
Remote Name: 142.134.143.182

Comments
What must the Filipinos do after the Pope has left? Well, he mentioned specifically, the problem of corruption in the country. His understanding is personal as he is in the midst of reforming the Curia for the same issue. and grew up in Argentina, a country with its inviolably dark chapter in history. However, the Pope's words and good intention may not be enough for in the Philippines corruption is not just a dark chapter but is a century of culture.
---
Name: bmt
From: quezon city
Remote Name: 71.136.228.31

Comments
After the pope's visit, most of the voters should think before casting their votes. There's a reason why candidates spend a lot just to be elected. In few months, they will be millionaires. Kailangan maydiscipline ng mga tao. If one was pardoned by a friend even he committed plunder, he will be always himself. If he is a resident of san juan but elected as mayor of manila. Confusing but probably only sa Pinas.
---
Name: Sam Juan
From: Hilong Hilo, Panay
Remote Name: 38.88.177.203

Comments
[Someone] commented " There are some who hate bishops and priests. But what is good, those criticized were those praying for us to God.- " Sorry but you got it all wrong!! I do not hate those people per se-- let's be clear about it! What I hate is there HYPOCRISY and continual exploitation of the ignorant people who believe that these bishops and priest represent god or are agents of god. They are nothing more than another professional groups (-like learned lawyers and doctors) who spend their time studying theology and the way of the church-- and nothing more!!!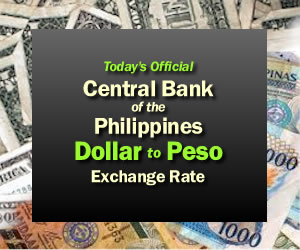 RECENT EDITORIALS
After the Pope's Visit: What We Filipinos Now Must Do


e put on a good show for Pope Francis. He loved it; we loved it; the world loved it. Now the long and painful task of bringing about the changes the pope asked for begins. Start with the Philippine Catholic Church. It should refocus its efforts towards the poor. As we wrote in previous editorials, many priests and bishops see themselves as members of the rich and privileged class. They feel more at home in country clubs and dining in expensive restaurants, than they do helping the poor who live in the squatter communities that dot most cities in the Philippines. Published 1/22/2015
---
Pope Francis Admonishes Pinoys to End Scandalous Inequalities

We had a feeling this was coming. In his first major speech in the Philippines, Pope Francis called for an end to 'scandalous inequalities' in the country. And what better example of a scandalous inequality is there than that a preposterously ridiculous wedding of Dingdong Dantes and Marian Rivera which was officiated by 8 bishops and 7 priests. In addition, this crass wedding featured a 12-foot high wedding cake, a 2-million-peso wedding gown with an exaggeratedly long train that seemed to go on forever...you get the picture. Published 1/16/2015
---
An Open Letter to Pope Francis; Please Read It Before Coming to the Philippines

Dear Pope Francis, your much anticipated visit to the Philippines is just a few days away. We expect that you will have been adequately briefed about the Philippines by the time you arrive. However, there might be a few things your Vatican handlers might have missed—or intentionally "forgot" to mention to you so we hope this letter reaches you in time for your historic visit. Before anything else, welcome! Published 1/9/2015
---
A Dingdong Fancy Wedding for a Third World Country

What is it with us Filipinos? We are a country of "all flash and no substance." Case in point: This ridiculously lavish wedding between two so-so movie stars that sought to outdo even the most "royal" of royal weddings. What was the whole point of this crassly extravagant display? Lest anyone forget, the Philippines is still a Third World country. And many, many squatter's homes (if you can call them "homes") do not have running water or even a toilet! Published 1/4/2015
---
Vice President Jejomar Binay's Aguinaldo

Money received from benefactors during Christmas in the Philippines is called "aguinaldo", a term and practice imported from Mexico during the Spanish colonial period where it now refers to the annual Christmas bonus given to employees. In the Philippines, it is now generally used to describe monetary gifts given by all benefactors, including godparents and employers. Published 12/25/2014
---
Do Filipinos Want America on Their Side or Not?

Given the Filipino penchant for "dramatics," not to mention the circus atmosphere that inevitably encompasses any event of even minor significance, one can hardly blame American government officials for refusing to hand over US Marine Lance Corporal Joseph Scott Pemberton over to Philippine authorities. The intriguing question in all this however is why some Filipinos are so insistent on having custody over the accused. Published 12/19/2014
---
Today's American Police Force Leaves So Much to be Desired

Long gone are the days when communities all across America looked up to the police officers who patrolled their streets and kept their neighborhoods safe. For cops back then it was a calling—almost like the priesthood—and those who answered that calling were brave, noble, larger-than-life individuals who kept Americans safe. Published 12/14/2014
---