ccording to the developer's website, "Torre de Manila, DMCI Homes' newest one-tower condominium, is an exclusive residential community right in the heart of the city." As of this writing, the 49-story edifice is about halfway complete. But as it continues to rise, so too do the howls of protest from an eclectic collection of groups and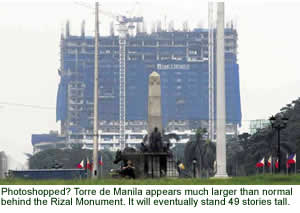 individuals who want it torn down. Why? Torre de Manila will permanently mar the skyline behind the Rizal Monument.
In 2012 DMCI applied for, and secured, a building permit from Manila's Office of the Building Official. That permit gave DMCI the go-ahead to erect a building up to 7 stories high. However, based on the building's plans and the developer's marketing materials—print advertisements, flyers, brochures and webpages, Torre de Manila when completed would stand 49 stories high. It was only in January of this year that the Manila Zoning Board of Adjustments and the Manila City Council discarded their own zoning laws and allowed DMCI to build beyond the 7-story limit of its original permit.
The readjusted permit has raised howls of protest from those who now fear that their worst nightmare may soon become a reality. Carlos Celdran, a staunch advocate for the preservation of the city's many heritage sites, was among the first to oppose the project. Even as early as October 2013 Celdran already had over 7,800 signatures from his online petition to halt the project. Another high-profile critic is Senator Pia Cayetano. As chairperson of the Senate Committee on Education, Arts and Culture, Cayetano likewise appears very concerned that the tall building will forever mar the vista behind Rizal's monument. She also noted that in her opinion, DMCI had been operating in bad faith from June 2012—when it received its original permit for only a 7-story building, to January 2014, because Torre de Manila was intended as a 49-story highrise from the start.
The Order of the Knights of Rizal, a large, well-respected organization also wants Torre de Manila removed. It filed a 26-page petition for injunction with the Philippine Supreme Court and asks that a temporary restraining order (TRO) be immediately issued to halt any further construction on the project.
So, should Torre de Manila be torn down? That is not for this website to decide. What we insist on however is that should the building be demolished, DMCI must to be compensated for its loss. After all, in a statement sent to a major daily publication in Manila, the developer noted "we followed all the rules and regulations and met every legal requirement. We also had been cleared by the National Historical Commission. We followed the law as required of us."
So how much should DMCI get back? That of course has to be agreed upon among all concerned parties including the citizens groups who want the building demolished. Civic groups can setup fundraisers and raise cash to help reimburse DMCI. In short everyone who wants Torre de Manila torn down should put their money where their mouth is and share in the pain—for so long Filipinos always seem to expect to have their way without sacrificing anything in return. DMCI should not be made to absorb a huge loss simply because the public now wants the vista behind the Rizal monument to remain as it was. The city of Manila however must shoulder the bulk of the cost because they were the ones who okayed the project in the first place.
And the city's elders cannot be allowed to weasel out of their obligation by saying they have no money to pay for it. They can always give DMCI tax breaks over a period of time until the city fully meets its obligation.
If evidence of corruption is discovered, then that issue must be investigated and dealt with separately. Anyone involved in bribery or malfeasance should be charged accordingly.
At the end of the day, it is of paramount importance that the country show the world that it lives up to its commitments. So often in the past foreign investors have been blindsided by changes in rules or requirements after a project is already underway. Whether justified or not, those changes can be extremely unsettling for investors who often end up seeing their projects stalled for decades in Philippine courts which unfortunately have a less-than-sterling reputation both locally as well as internationally.
President Benigno Aquino III recently returned from a 12-day trip to Europe and the United States and proudly brought back with him $2.34 billion in investment pledges. Those pledges could create nearly 40,000 new jobs. It is not easy finding foreign investors in today's highly competitive investment market. So it behooves all Filipinos to make the country as attractive as possible to investors. And in the simplest of terms, that means keeping our word and treating everyone fairly. Published 10/01/2014



Philnews.com reserves the right to select and edit comments for publication.

Comments from Our Readers
(Topic: How Ferdinand Marcos's Martial Law Continues Hurting Filipinos to This Day)
Name: HMSomeone
City/State/Country: USA
IP Address: 74.77.36.177

Comments
A well written blogger made a comment about the Marcos adherents. I agree with his comments. It's as if those adherents have no idea how evil Marcos was. In fact they do. But they still choose to champion him. Which is not a surprise if you think about it. Even Satan, the symbol of everything dark and evil have followers. They are called Satanists. So why not Marcos? These followers are called Hirelings. They are agents of Hate.
---
Name: DING DONG
City/State/Country: DONGON, SAMAR
IP Address: 67.250.86.169

Comments
RAMON GONZALES: You wrote: "The Marcos still have a big property in Long Beach, Long Island, NY and another building in the downtown business section here New York city, that I don't think the Philippine government even knows about." To my understanding the Crown building on 5th Avenue had been sold and the proceeds from the sale of that piece of property was divided among the claimants. The three other properties, were the object of foreclosure proceedings. As to the waterfront estate in Long Island (14 bedrooms with 17th bathrooms) that has been sold in '87. It is up for sale now for $4.95 Million if Binay is interested in buying it.
---
Name: DING DONG
City/State/Country: DONGON, SAMAR
IP Address: 67.250.86.169

Comments
RAMON GONZALES: I could name for you the other properties of the Marcos dynasty that the government is aware of: (1) Herald Center shopping mall on Broaday on 33rd and 34th Street ( 2) 40th Wall street (downtown on Nassau St.) (3) 200 Madison Avenue on 35th and 36th st. All of the above are in New York City. The money that was stashed away is hard to find. They are in different countries that are considered as safe haven. ERAP made the mistake of keeping his money in local banks under the name of depositor PIDAL so that he could check his bank balance daily. Hi hi hi
---
Name: HMSomeone
City/State/Country: USA
IP Address: 74.77.36.177

Comments
1) THE TREASURE OF YAMASHITA. There were reports that in one of the houses owned by Marcos some people have seen bars of gold stacked up from floor to ceiling. Even Imelda Marcos would at times make cryptic remarks about the amount of gold they own. Those who saw it swear by it. Those who did not refuse to believe it. Yet in the 80s Marcos assigned Fabian Ver to oversee a treasure hunt called the Teresa Project. This Treasure Hunt was complete with professional Gold Hunters. And even a Seer who was supposed to be able to predict where the gold could be found. According to a member of this group they found the gold. OR DID THEY?…(cont)



Philippine NewsLink reserves the right to select and edit comments for publication.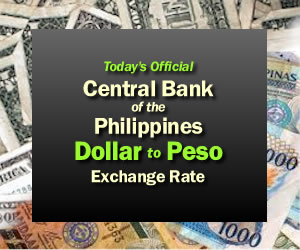 RECENT EDITORIALS
How Ferdinand Marcos's Martial Law Continues Hurting Filipinos to This Day



On the evening of September 23, 1972, two days after it had taken effect, Ferdinand Marcos announced via live television from Malacañang Palace that he had placed the Philippines under Martial Law. It was a calculated move by a devious politician to keep himself in power beyond what the Constitution allowed. A staged ambush attempt against his Defense Secretary Juan Ponce Enrile was the main excuse Marcos (or "Macoy" as he was deridingly referred to back then) used to strip Filipinos of all their constitutional rights. With that, the diminutive Ilocano from the backwaters of Batac, Ilocos Norte became the despotic dictator for over a decade. Published 09/23/2014
---
Jejomar Binay Should Never Become President of the Philippines

In our July 25th editorial we asked if Vice President Jejomar Binay should be the next president of the Philippines. In this editorial we arrive at the definitive conclusion that that Binay should not be elected president. Since our last editorial, more witnesses have come forward with more allegations against the embattled Vice President. But our decision not to support Binay's presidential bid is based on irrefutable public acts that in our opinion disqualify him from the presidency. Published 09/16/2014
---
Will Pacman be China's Pitchman?

The news was officially announced by China Central Television (CCTV) in Beijing on August 25: Manny "Pacman" Pacquiao, the "national fist" of the Philippines and the winner of eight world boxing titles, signed an agreement with the Chinese government "to establish a string of boxing academies" all over China with the aim of helping to "grow the sport in China and provide opportunities for young people to take part." Published 09/07/2014
---
Napoles Prays 2,000 Rosaries a Day, So Does She Get a Free Pass to Heaven?

After leaving her August 15th bail hearing at the Sandiganbayan, Janet Lim Napoles showed the media the marble rosary she personally received from recently canonized Saint Pope John Paul II. Her lawyer Stephen David later disclosed to media that Napoles prays 2,000 rosaries a day. Given that a day has only 24 hours or 1,440 minutes, Napoles would have to complete an entire rosary in less than a minute praying non-stop for an entire day…every day. Atty. David also pointed out that Napoles paid for the schooling of at least 200 priests and helped construct many Catholic churches. Published 08/30/2014
---
Should President Aquino Get a Second Term as President?

Many Filipinos today are realizing that the single, six-year presidential term as prescribed in the 1987 Constitution is woefully inadequate for a good president like Benigno S. Aquino III. The delegates who wrote that provision in the Constitution must have still been reeling from the almost 20 years of "kleptocratic" rule of strongman Ferdinand Marcos when they decided that one term was enough for any future Philippine president. Four years—the presidential term at the time—would be too short; eight too long. Published 08/23/2014
---
China Owns the Entire South China Sea? What are They Smoking—Opium?

The arrogance of China is becoming readily apparent with each passing day. With their newly acquired economic and military power the Chinese appear unrestrained in their assertiveness towards their neighbors. China, instead of positioning itself as a 21st century superpower appears to be turning back the clock resembling more and more the 12th century empire of Genghis Khan and the Mongol hordes who conquered most of Eurasia...just because they could. Published 08/12/2014
---
On Her 5th Death Anniversary, We Say 'Thanks for Nothing Cory Aquino'

The passage of time has a way of distilling reality and bringing out truths that are sometimes hidden or lost by present circumstances. Case in point is the overwhelming level of admiration many Filipinos have for former President Corazon Aquino. When she passed away in 2009, the entire nation seemed beside itself in grief. Her casket was mobbed by thousands of mourners as it slowly made its way through the streets of Metro Manila to its final resting place at the Manila Memorial Park in Parañaque. Published 08/02/2014
---