Rappler
Manila Times
Asian Journal
Filipino Express
Malaya Online
Daily Tribune
CNN Philippines
Philippine News
Kababayan LA
MindanaoTimes
Sun Star
Negros Chronicle
Bohol Chronicle


President's Office
Vice President's Ofc.
Phil. Senate
Phil. Hse of Rep.
Supreme Court
Peso Exch Rate
Showbiz
Lazada
Buy & Sell Online
Filipino Channel
Phil History
Phil Business
Phil Basketball
Make it Cebu
BuWorld Online

---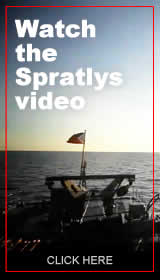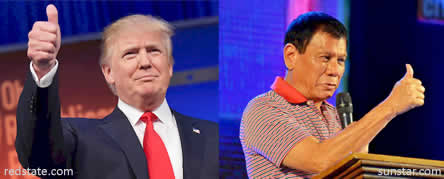 Donald Trump and Rodrigo Duterte

wo countries, two elections, two candidates. But for many who have been following both the Philippine and United States elections, these two presidential contenders, one American—one Filipino, appear to have uncanny similarities.

In the U.S., real estate tycoon Donald Trump has been defying conventional Republican Party (GOP) wisdom with his significant lead over his two other rivals for the party's nomination. To the great consternation of GOP bigwigs, Trump's seemingly insurmountable lead almost guarantees him the party's nomination in mid-July. Trump's brash remarks towards, Mexicans, women, Moslems, and minorities, as well as his many unconventional ideas about how to run the country seems to only bolster his lead rather than weaken it.

Halfway across the globe, in the Philippines, Davao Mayor Rodrigo Duterte has likewise been leading in the polls despite the numerous crude and insensitive remarks he has been making. He has alleged ties to vigilante groups that operate in Davao City where he has served as mayor for over two decades. Like Trump, Duterte rarely takes a nuanced approach to issues, preferring instead to project a shoot-from-the-hip, tough guy approach.

Both Trump and Duterte are loose cannons who may likely do more harm than good for their respective constituencies. While one can certainly understand the frustration of their many supporters who want to lash out at a system that delivers little or no improvement to their lives, there is also the danger that Trump and Duterte could make matters worse.

The stakes seem to be higher for the U.S., it being the leader of the free world and a nuclear superpower. But for Filipinos, those stakes appear high as well. After many decades of mismanagement from presidents who were either incompetent or downright corrupt, the Philippines has finally managed to claw its way out of the hole that leaders like Marcos, Estrada, and Arroyo dug for the country. Today, the Philippines' GDP is the envy of most of its neighbors. The country can ill-afford to have an erratic, hot-head in Malacañang creating more problems instead of solving them.

For the followers of Trump and Duterte, it appears more attractive and exiting to shoot for radical and sweeping change. Throw out all the bums! And put an outsider in charge. To them we say, we hope you're right, just as the saying "be careful what you wish for," comes to mind. Published 5/1/2016



Philnews.com reserves the right to select and edit comments for publication.
---
You can also post your comments below
via DISQUS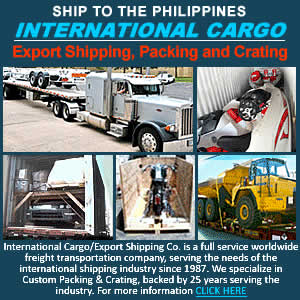 Our Thoughts on the Last Presidential Debate Before the 2016 Philippine Elections


Compared to the first two, this debate moderated by ABS-CBN was by far the best. So before anything else, kudos to the folks at ABS-CBN and ANC. Each of the five presidential contenders had ample opportunity to differentiate himself or herself from the rest—which should help voters make more informed choices on election day. Published 4/26/2016
---
Not Just Rodrigo Duterte, We Pinoys Simply Have a Really Crude Sense of Humor



After being excoriated first by social media, then by the general public, for a boorish and insensitive remark he made in 1989 that happened to be caught on video, Davao City mayor and presidential candidate Rodrigo Duterte finally admitted it was a mistake. At first he tried to justify it as a seemingly vulgar joke due to his poor and humble upbringing. Published 4/22/2016
---
China's Plan B: Binay-Bongbong (Jejomar Binay and Bongbong Marcos)



It's a high stakes poker game with China placing all its chips on the table, gambling that it can seize unoccupied islets and shoals in the West Philippine Sea - transforming them into man-made artificial islands by pumping sand onto live coral reefs and paving them with concrete, then equipping them with aircraft runways, port facilities and surface-to-air missiles while in the process of exercising total control and dominion over the entire South China Sea - and get away with it. Published 4/16/2016
---
The CNN Philippines Vice Presidential Debate: Who We Liked, Who We Didn't Like



The CNN vice presidential debate held at the University of Santo Tomas campus in Manila on April 10, gave Filipino voters the chance to see and hear the top six contenders side be side, answering questions and interacting with one another for well over an hour. Like the millions of Filipinos who watched the debate on television or streamed it from the internet, we were able to form our own fairly distinct opinions about each candidate . Published 4/11/2016
---
U.S. Marine Joseph Scott Pemberton, and Cross-dressing Filipino Homosexuals



Filipino males by nature appear more effeminate than males of most other cultures. Behind the facade of the Latin "macho" you'll usually find a soft-spoken, mild-mannered, mama's boy who walks the line between the masculine and the feminine. Published 4/7/2016
---
Bangladesh Bank Heist, Another Big Embarrassment for the Philippines



The crime syndicate that pulled of this high-tech heist obviously did its homework. They knew how to move millions of dollars clandestinely from the Bangladesh central bank's account at the Federal Reserve Bank of New York, and were to move it to—the Philippines. Published 4/1/2016
---
Jejomar Binay's Glaringly Unpresidential Performance Before the 2nd Debate



On March 20, 2016 four Philippine presidential contenders had their second debate in University of the Philippines' Cebu campus. The debate, which should have started promptly at 5pm was delayed for well over an hour because one of the contenders, Vice President Jejomar Binay insisted that he be allowed to bring notes and documents with him to the podium. Published 3/24/2016
---
Filipino-American Republicans and the Donald Trump Phenomenon



A vast majority of Filipinos who migrated to the United States to settle in the many towns and cities that dot the country from coast to coast have for decades bucked the trend followed by most immigrants. Pinoys gravitate towards the Republican Party instead of the Democratic Party. Mexicans and other Latinos for instance, share the same Catholic faith as Filipinos but overwhelmingly vote Democratic. There are also the Vietnamese, Japanese, and Koreans who like Filipinos are Asian, but they lean more towards the Democrats as well. Published 3/21/2016
---
Choosing Between the United States and China, for a Better Philippines Tomorrow



Some Filipinos say that the United States and China are moving towards a showdown in the South China Sea and the Philippines' best course of action is to remain neutral and get out of the way. The United States Navy has been the dominant power in the Pacific for decades. No other navy even comes close. But China is rapidly developing a blue water navy of its own plus sophisticated long-range missile technology that will soon give the Americans a run for their money. Published 3/17/2016
---
Dick Gordon, the COMELEC, and the Cost of Not Trusting One Another



One reason the Philippines is such a laggard compared to other nations is because Filipinos simply don't trust one another. And in a way, you really can't blame them because the country has more than its fair share of scams, swindles, rackets, and all manner of nefarious deeds perpetrated by Pinoys on fellow Pinoys. Published 3/13/2016
---
The Death of Ninoy and Why a Rodrigo Duterte Presidency is Very Dangerous



Go back in time to August 21, 1983. Back to what was then called the Manila International Airport. China Airlines Flight 811 from Taipei, sat on the tarmac awaiting instructions from the tower so its passengers could disembark. On board was former Senator Benigno Aquino Jr., who had taken a circuitous route back home from the United States. Aquino knew that returning to the Philippines, then ruled by a tyrannical dictator was an extremely dangerous endeavor. Published 3/8/2016
---
Learning Science Must Become the Philippines' Top Educational Priority



Quick! How many Filipino Nobel laureates can you name? That was a trick question because there aren't any—despite the fact that the Philippines is now the 12th most populous country in the world. There are now more Filipinos than there are Germans, Britons, or French citizens. In fact add up the populations of Portugal, Canada, Libya, and Australia and you'll still come up 25 million short compared to the Philippine population. So we have the numbers, why then don't we have the Nobel prize winners? Published 3/3/2016
---




DUTERTE ADMITS | 'A little less than P211 million'
MANILA - Davao City Mayor Rodrigo Duterte on Friday acknowledged that he has funds with Bank of Philippine Islands (BPI) in a savings account at its Julia Vargas branch in Pasig City, but said it's definitely "a little less" than the P211 million that Sen. Antonio Trillanes IV claimed was deposited there.

The Philippines hits all time high average 6.2% GDP
PANABO CITY, Davao del Norte, April 29 (PIA) - - The Philippines reached 6.2% average in Gross Domestic Product for the span of six years. Department of Trade and Industry Undersecretary Ceferino Rodolfo bared recently during the Negosyo Konsyumer at Iba Pa in SMX Convention Center, Davao City that growth rate for 2010-2015 ...

Fitch Ratings: Philippine remittances less vulnerable
GLOBAL debt watcher Fitch Ratings said remittance inflows in the Philippines are less vulnerable to the slowing growth in Middle East countries because migrant Filipino workers are not solely concentrated in that region. Fitch said in a report Friday reduced growth and capital spending among oil producers ...
Roxas gets big boost in Ilocos Norte as 22 of 23 mayors endorse his candidacy
LAOAG CITY, Ilocos Norte, April 30 (PNA) -- With just nine days left before elections, the presidential bid of administration standard bearer Mar Roxas got a big boost Saturday, as 22 out of the 23 incumbent mayors of Ilocos Norte committed their full support to the former Interior and Local Government Secretary.
Abu Sayyaf arms cache, speedboat recovered in Tawi-Tawi operations
MANILA, April 29 (PNA) -- Government security forces pursuing Abu Sayyaf Group (ASG) bandits have recovered an arms cache and a speedboat belonging to the brigands during operations at Siluag and Mamanuk Islands, Tawi-Tawi, Friday early morning.
Rodrigo Duterte to open bank accounts
AFTER denying the allegations for several days, presidential candidate Davao City Mayor Rodrigo Duterte admitted Friday he had bank accounts at the BPI Julia Vargas branch in Pasig with "a little less than P211 million"—and said he would reveal the contents of the accounts Monday.
Concert at the Park to feature Southernside Musical Ensemble
MANILA, April 30 (PIA) - Concert at the Park opens the month of May with a summer music concert featuring the Southernside Musical Ensemble on Sunday, May 01, 2016. The program starts at 5:00 p.m. at the Rizal Park Open-Air Auditorium to be hosted by Ms. Aretha Angcao. Admission is free.

Feature: Philippines' good governance leads to increased economic growth
MANDALUYONG CITY, Apr. 30 -- Despite the slowdown in the Asia-Pacific region's economic outlook, the Philippines had experienced a growth trajectory. During the press launch of the Economic and Social Survey of Asia and the Pacific 2016 held here yesterday, Dr. Jose Ramon G. Albert, Senior Research Fellow ...

Japan wants foreign tourists to avoid 'public flatulence'
TOKYO - A Japanese tourism board has called on foreign tourists to refrain from public "belching or flatulence" in an etiquette guide which was hastily rewritten, reportedly after complaints from a Chinese resident. The Hokkaido Tourism Organization, which represents Japan's northern-most island, published a downloadable brochure ...

President Aquino: Choosing the right leaders is the voters' responsibility
MANILA, April 29 (PNA) -- President Benigno S. Aquino III on Thursday reiterated that putting the right leaders in place is a responsibility that ultimately lies with the electorate. "Lahat tayo, pare-pareho ang boto natin. Lahat tayo ay mayroong responsibildad sa pupuntahan natin. Kayo ang gumawa ng pagbabagong ...