hough his popularity rating has taken some hits lately, Vice President Jejomar Binay is still far and away the strongest contender for the Philippine presidency in 2016.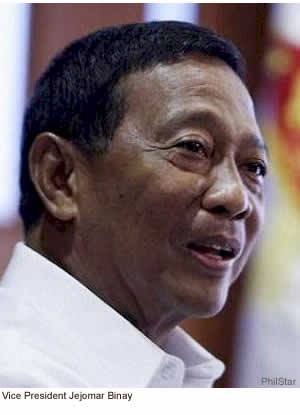 But is he the right choice for the country? His legions of supporters will give you an enthusiastic "yes;" his detractors however, will tell you "no!" So who's right? To answer our question, lets look instead at Binay's deeds rather than the words of his supporters or detractors.
Soon after he was installed as Mayor of Makati by President Cory Aquino, rumors started spreading that Binay would be "given" a unit or two in every high-rise condominium building constructed in Makati. This was to make sure things went smoothly for the builders or developers. Though these rumors are widespread, we are unaware of any occasion where the former mayor has come out to categorically deny those allegations. It may be that Binay simply refuses to dignify, what to him are silly and preposterous rumors, with a response. The problem with that tact however is the rumors don't go away and his detractors point to his non-response as proof that the rumors are likely true.
Binay's 2013 Statement of Assets, Liabilities and Net worth (SALN) declares a net worth of a little over Php60 million. Compared to other mayors and governors, Binay's net worth appears small. However, a 2013 article from an online news website suggests Binay uses a tactic extensively employed by Ferdinand Marcos during the martial law years: that of having subalterns stand in as listed owners of properties and businesses he really owns. And if an asset is not in his name, then it does not have to be declared in his SALN. If this allegation is true it would be difficult to pin Binay down on it barring actual admissions by accomplices.
So let us look at Binay's other public acts to answer the question we pose at the top. Binay was appointed by President Corazon Aquino shortly after the 1986 EDSA revolution. He then got himself elected mayor of Makati in 1988, won reelection in 1992, and again in 1995. His term ended in 1998 and he could not run for reelection due to term limits. So he fielded his wife Elenita who won as mayor for one term. In 2001, with term limits now behind him, Binay ran for mayor once more and held that post till 2010 when he was term-limited out once again. This time Jejomar Binay, Jr. took over Makati's mayoral reins from his father. Sadly many Filipinos see nothing wrong with what Binay did. Many Filipino officials from governors and mayors down to Baranggay chairmen do the same thing to get around term-limit restrictions.
A true statesman however will look at the spirit of the term limit law and understand that it is there so that an individual or family cannot monopolize an elected office. Term limits give others a chance to govern as well. Binay, a lawyer with post graduate studies from institutions like Wharton and the John F. Kennedy School of Government at Harvard cannot be cut any slack when it comes to knowing what is ethical behavior and what isn't. As we've seen with previous Philippine presidents, those who are not morally and ethically grounded end up causing great harm to the country and its people.
Also at issue with Binay is the "dynastic" ambitions. Aside from himself, four members of his immediate family have been elected into public office: his wife was a former mayor of Makati; his son is its current mayor; his daughter Nancy was just elected senator; and his other daughter Abigail is a congresswoman representing Makati. The question one might ask is: are the Binays so exceptionally gifted that the country needs to have four of them in public office? Or has Binay used his political clout to push is family into positions they could never have attained on their own. There still is no Anti-Dynasty Law in this country so Binay isn't doing anything wrong. It just doesn't pass the "smell test" for those of us who expect uncompromising ethical and moral standards from our highest public officials.
Now let us briefly look at Binay's decision-making process. He just announced that he has Rep. Manny Pacquiao listed in his party's senatorial slate. Really? Manny Pacquiao a Philippine senator? Many Filipinos believe he doesn't even deserve to be a congressman, which he is. Together with former President and now Rep. Gloria Arroyo who is under hospital arrest for plunder, Pacquiao has the most absences amongst his congressional colleagues. For most of the year, Pacquiao is away either training or preparing for a fight. And when he's not doing that, he's coaching his basketball team or planning to play professional basketball himself. The fact that he is extremely popular and will most likely win if he runs for senator does not mean that he should run. Binay's choice of Pacquiao is a crass political decision that in many ways give us an insight into what kind of president Binay will be. There is zero benefit for the Filipino people if Pacquiao becomes a senator because there is nothing "senatorial" about him—he has nothing to contribute. But having Pacquiao on his party's lineup will be a big plus for Binay, and that in itself might be good enough for him.
Just this week plunder raps were filed against Binay and 21 others in connection with alleged overpricing of a parking building built in Makati in 2007. According to the complaint, the government ended up paying Php1.56 billion for a building that cost only Php245 million to build. Binay immediately headed off the controversy by stating that one of the accusers lost to Binay's son in last year's mayoral elections. He also told the public to expect more accusations to surface now that he will be running for president in 2016. The question people have to ask themselves however is whether this flood of accusations headed Binay's way is because of his candidacy or because there have indeed been numerous anomalies he was involved in over the years.
We're not going to answer the question we posed at the top, but we'd like you to give us your answer. Tell us what you think. Published 07/25/2014



Philnews.com reserves the right to select and edit comments for publication.

Comments from Our Readers
(Topic: So, Should Jejomar Binay Be the Next President of the Philippines?)
Name: Vanessa Lee
City/State/Country: Kuwait
IP Address: 112.208.49.18

Comments
Mr. J. Binay for president? I hope it won't materialize. He pretends to be pure, look like different from other corrupt officials but people already knew his doings. The idea of having even Manny Pacquiao to be under his ticket shows only how greed he is to have more fame, power and wealth. At my end any civil servant who wants to stay in power for long time and have dynasty in politics as such, he wants to glorify himself rather than give chance to other aspirants- this is greediness. We civilians let's learn a lesson before it's too late we should not give leeway to ambitious man such as him we should have wise choice of candidates and do not be fooled by their words ever.
---
Name: JRH
City/State/Country: Montreal, Quebec
IP Address: 70.83.179.172

Comments
The Binay family is a very powerful political institution & dynasty; Vice-Pres J Binay, congresswoman wife, senator daughter, mayor son et al. It's a mighty force just like a snowball becoming bigger as it rolls down the hill. In short, there's no stopping them. Right now, he's consolidating a strong party of electable, questionable, rich political allies, oligarch friends, other family members in govt. It's well-fiananced & the strategic logistics are ready & in place. Should the election happen today, rest assured & chances are his party will dominate.
---
Name: Paco Sa Cruz
City/State/Country: Vietnam
IP Address: 113.170.212.195

Comments
For decades, political dynasties have been ruling the country. Under their reins, the Philippines remains poor and unprogressive. While most of us live in poverty, members of political dynasties and their close associates are enjoying life to the high heavens. Jejomar Binay has built political dynasty in Makati. A very clear indication of a politician who will do everything to enrich himself and his family. Therefore, Jejomar Binay is unfit to become the next President of the Philippines. It is obvious that under his rein, graft and corruption will flourish.
---
Name: Al Dabog
City/State/Country: USA
IP Address: 72.208.225.126

Comments
General consensus here is that Binay, as President, would be bad for the country. Agreed. I don't know the man, (I lived in Makati for a number of yrs. before leaving for the States in '73). I don't even remember if I ever heard his name the time I was there. A friend/neighbor, passed the Bar a year or so after I left, eventually worked for Binay. And I asked about that video they filmed where Binay was going around Makati and asking people, as if they were acquainted personally, about their concerns. I asked if Binay really knew those people bcoz he was calling them by their palayaw. "Ano ba, Gorio, kumusta na?" Things like that. That was staged. It's politics, he said. And then this - his whole family in politics. Be very afraid, people.
---
Name: Espie Ramos Reyes
City/State/Country: Philipines
IP Address: 49.148.18.182

Comments
No, I simply don't trust binay.. With almost his whole family in govt positions, I can almost imagine another people power..
---
Name: deo
City/State/Country: flour-flower city
IP Address: 66.66.203.16

Comments
No politician can claim credit for what Makati is now. It was the foresight and shrewdness of the Ayala y Cia., Elizalde y Cia. and other Spaniards. Check this out. Ayala subdivide the land which everybody thought "would not amount to anything". The sole structure standing then bounded by Ayala, Buendia, Makati Rd., Pasay Rd., P. Tamo, was Elizalde House. Ayala sold "cheap" the subdivided land to corporations (Banks, Manufacturers, Car Dealerships, TV Station, Phil Free Press etc.) on conditions that they will come and build their offices. One is my kano employer where I learned this fact. It was as simple as that. The rest is history.



Philippine NewsLink reserves the right to select and edit comments for publication.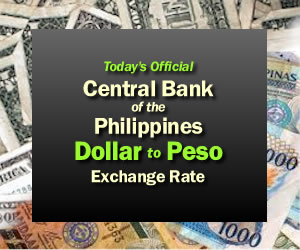 RECENT EDITORIALS
China's Military Base on Mabini Reef Violates the Philippine Constitution



While searching for the missing Malaysia Airlines Flight 370 on March 11, 2014, a Philippine Air Force plane flying over the Kalayaan Island Group in the West Philippine Sea sighted Chinese reclamation activity in the Mabini Reef of the Kalayaan Island Group within the 200 mile Exclusive Economic Zone (EEZ) of the Philippines. His aerial photographs were transmitted to the Philippine government for analysis. Published 07/10/2014
---
Napoles PDAF/NGO Scandal: What is Ten or Fifteen Billion Pesos Really Worth?

For those who have been following the Janet Lim-Napoles PDAF/NGO* scandal these past months, it is easy to get caught up in all the rhetoric—the words and phrases repeated day after day. Words like "ten billion" or "fifteen billion" have turned into something akin to "gray" background noise.  Words devoid of any real meaning or significance. So let us try to put back some meaning into those trite and often-repeated phrases in order to better understand some of the far-reaching ramifications of Napoles' actions. Published 06/30/2014
---
How could they not have known that the Napoles NGOs were fake?

With Senator Bong Revilla already in police custody in Camp Crame and Senators Jinggoy Estrada and Juan Ponce Enrile set to join him any day now, people need to start asking tough questions going forward. The privilege speeches of the senators along with the histrionics that accompanied them are thankfully now over so we can all address this issue more objectively. Published 06/21/2014
---
The Self-Perpetuating Elite of the Philippines

In an essay published in the July 1968 issue of the American magazine Foreign Affairs, a novice Philippine senator described his country as "a land in which a few are spectacularly rich while the masses remain abjectly poor. . . . a land consecrated to democracy but run by an entrenched plutocracy… a people whose ambitions run high, but whose fulfillment is low and mainly restricted to the self-perpetuating elite…a land of privilege and rank – a republic dedicated to equality but mired in an archaic system of caste." Published 06/14/2014
---
PHL Legislators Implicated in the Napoles PDAF Scam Face Definite Jail Time...Maybe

In the United States former four-star General and until recently Secretary of Veterans Affairs Eric Shinseki was forced to resign as head of the VA by the ongoing healthcare scandal that has enveloped that agency. While one can safely assume that Shinseki was not involved in the actually transgressions being investigated, the fact that he headed the agency meant he had command responsibility over its entire staff. And their wrongful acts, whether he knew about them or not, cost him his job. That is the way things work in properly functioning democracies. In the Philippines however, things tend to get a little unusual. Published 06/03/2014
---
Why All the Fuss? We Knew They were Corrupt Anyway!

So finally the cat is out of the bag, so to speak. But we Pinoys should not be surprised at all. We all know how corrupt our country is. Even before former president Gloria Macapagal-Arroyo was accused of electoral sabotage and the misuse of public funds in 2011; even before Joseph "Erap" Estrada—an earlier president was convicted of plunder by the Sandiganbayan in 2007; even before Ferdinand Marcos, a president-turned-dictator, was booted out of the country along with his family and cronies twenty-eight years ago; we Pinoys knew they were corrupt. Published 05/17/2014
---
The Case of Denise Cornejo and Cedric Lee, a Litmus Test for Pnoy and Philippine Justice

Now that the star attraction in the alleged Vhong Navarro rape incident is in police custody, the upcoming trial will be a litmus test for the Aquino administration as well as the Courts. The almost universal perception is that Philippine justice is broken and does not work. Laws are applied inequitably with the wealthy and powerful living almost above the law, while the common "tao" finds himself at the losing end of cases that usually drag on for years. Published 05/06/2014
---
Obama's Visit a Shot in the Arm for a Struggling Ally

After essentially showing the American Military the door in the early '90s, Filipinos have of late come to the realization that they need their "Uncle Sam" more than they thought they did. And back then the United States was also more than happy to oblige as their Base Realignment and Closure (BRAC) Commission had been closing down hundreds of military installations all across the USA. Published 04/29/2014
---