n our July 25th editorial we asked if Vice President Jejomar Binay should be the next president of the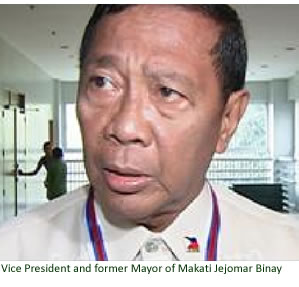 Philippines. In this editorial we arrive at the definitive conclusion that that Binay should not be elected president.
Since our last editorial, more witnesses have come forward with more allegations against the embattled Vice President. But our decision not to support Binay's presidential bid is based on irrefutable public acts that in our opinion disqualify him from the presidency.
First and foremost, Binay skirted around the country's term-limits law by having his wife run for mayor after his third term in office—the maximum allowed by law—came to an end. That three-year gap out of office while his wife was mayor allowed him another three consecutive terms as mayor. An opportunity he seized till he maxed-out once more in 2010. At that point his son Jejomar Binay Jr. was old enough to run for mayor and did so, thus keeping the office "in the family."
To outsiders not accustomed to Filipino-style politics what Binay did is simply outrageous and totally unacceptable. The term-limits law was signed into law to prevent any individual from monopolizing a public office. Sadly that is what Binay and many other mayors and governors all over the country are doing. But the fact that so many unscrupulous politicos do it does not make it right. We must point out that what Binay did is technically not against the law, but it certainly goes against the spirit of the law.
Secondly, Binay made a mockery of the Philippine Senate when he allowed his daughter Nancy who was so obviously unqualified, run for senator.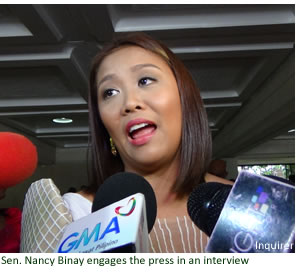 The fact that she was a likely winner—given an easily manipulated electorate—did not mean she deserved to become a senator. Long gone are the days when only statesmen with years of experience became senators. The fact that Binay saw nothing wrong with his daughter Nancy running for the Senate speaks volumes about Binay's true character. It appears he cares only about himself and his family. The fact that the Philippines now has an unqualified senator does not a matter of concern to Binay. What matters is that his daughter Nancy is now a senator and in place to protect and expand the family's dynastic interests.
And like an astute chess player, Binay has his pieces in place. Aside from Nancy, his other daughter Abigale is currently a congresswoman, while his son Jejomar Jr. is now the mayor of Makati City.
Binay made a name for himself in the early Eighties as a staunch critic or Ferdinand Marcos and his martial law regime. Cory Aquino who became president after the EDSA revolution saw Binay as a loyal ally and appointed him mayor of Makati shortly after she took office.
His actions since assuming public office however show Binay as a power-hungry politico who like Marcos puts himself and his family above country. Like Marcos, Binay also seems to have the same cynical attitude towards the average Filipino voter who he sees as gullible and easily manipulated.
Given the disastrous presidencies of Ferdinand Marcos, Joseph Estrada, and Gloria Arroyo, it is high time Filipinos begin raising the standards of those vying for the office. While Binay's acts, as we mention above, are not against the law, they do not pass the "moral ascendancy" test—to borrow a phrase bandied about by Filipino Bishops. It appears that Binay is bent on creating a political dynasty for his clan and has no qualms about bending the rules to keep himself in power. And those is a very dangerous traits to have in a Filipino president. Published 09/16/2014



Philnews.com reserves the right to select and edit comments for publication.

Comments from Our Readers
(Topic: Will Pacman be China's Pitchman?)
Name: Phil Researcher
City/State/Country: LA County, CA USA
IP Address: 98.112.130.24

Comments
Re: Wilner & Oreilly Immigration Lawyers in Los Angeles. describes Manny Pacquiao as a successful immigrant one of their celebrity clients . Now if Pacquaio is an immigrant then he lied in his documents in the comelec..a green card holder can't run for Congress and for that matter any Phil Public Office. Pacquaio should clarify this now considering that he is also a Chinese "consultant" in Boxing.
---
Name: Manuel C. Diaz
City/State/Country: Montclair CA USA
IP Address: 76.90.62.96

Comments
How long do you think that Pacman can market his talent in boxing? He is just maximizing the marketability of his talents. If China pays Pacman for his talent fee why should you begrudge him!
---
Name: Manila
City/State/Country: CA USA
IP Address: 108.23.46.11

Comments
The lifestyle of Filipinos are now more aggressive, and thinking you won of something you are good enough to run for higher position in the Philippine Government. Sa hirap na mga kabuhayan, most of them have no jobs, they will do everything to vote for someone like Pacquiao in order to survive for one day? Walang hiya at makapal ang mukha ni Pacquiao to enter politics. He uses his money thinking people will care for him. Ang pera nga naman maraming puwede gawin sa isang tao? Look at his mother, very religious person, but the minute Pacquiao lost with Mexican boxer, she lost her temper and started saying bad words. All they want is to win all the time. I do not wish bad for him or his family but he should leave politics alone and be thankful for what he has now.



Philippine NewsLink reserves the right to select and edit comments for publication.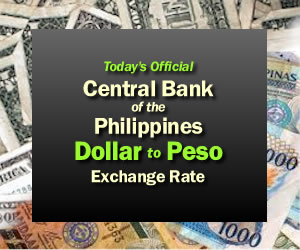 RECENT EDITORIALS
Will Pacman be China's Pitchman?



The news was officially announced by China Central Television (CCTV) in Beijing on August 25: Manny "Pacman" Pacquiao, the "national fist" of the Philippines and the winner of eight world boxing titles, signed an agreement with the Chinese government "to establish a string of boxing academies" all over China with the aim of helping to "grow the sport in China and provide opportunities for young people to take part." Published 09/07/2014
---
Napoles Prays 2,000 Rosaries a Day, So Does She Get a Free Pass to Heaven?

After leaving her August 15th bail hearing at the Sandiganbayan, Janet Lim Napoles showed the media the marble rosary she personally received from recently canonized Saint Pope John Paul II. Her lawyer Stephen David later disclosed to media that Napoles prays 2,000 rosaries a day. Given that a day has only 24 hours or 1,440 minutes, Napoles would have to complete an entire rosary in less than a minute praying non-stop for an entire day…every day. Atty. David also pointed out that Napoles paid for the schooling of at least 200 priests and helped construct many Catholic churches. Published 08/30/2014
---
Should President Aquino Get a Second Term as President?

Many Filipinos today are realizing that the single, six-year presidential term as prescribed in the 1987 Constitution is woefully inadequate for a good president like Benigno S. Aquino III. The delegates who wrote that provision in the Constitution must have still been reeling from the almost 20 years of "kleptocratic" rule of strongman Ferdinand Marcos when they decided that one term was enough for any future Philippine president. Four years—the presidential term at the time—would be too short; eight too long. Published 08/23/2014
---
China Owns the Entire South China Sea? What are They Smoking—Opium?

The arrogance of China is becoming readily apparent with each passing day. With their newly acquired economic and military power the Chinese appear unrestrained in their assertiveness towards their neighbors. China, instead of positioning itself as a 21st century superpower appears to be turning back the clock resembling more and more the 12th century empire of Genghis Khan and the Mongol hordes who conquered most of Eurasia...just because they could. Published 08/12/2014
---
On Her 5th Death Anniversary, We Say 'Thanks for Nothing Cory Aquino'

The passage of time has a way of distilling reality and bringing out truths that are sometimes hidden or lost by present circumstances. Case in point is the overwhelming level of admiration many Filipinos have for former President Corazon Aquino. When she passed away in 2009, the entire nation seemed beside itself in grief. Her casket was mobbed by thousands of mourners as it slowly made its way through the streets of Metro Manila to its final resting place at the Manila Memorial Park in Parañaque. Published 08/02/2014
---
The Failure of Philippine Education Is Now Staring Us in the Face

Will the Philippines Ever Become a Developed Country? The short answer to that is no—at least not in our lifetime. While the country has of late improved it credit ratings as evidenced by upgrades from Moody's, Fitch, and Standard & Poor's all that perceived progress is illusory. In the Fifties and Sixties, when the Philippines was undeniably the country at the top of the heap in Southeast Asia, people said it would always be the most industrialized country in the region. Published 08/02/2014
---
So, Should Jejomar Binay Be the Next President of the Philippines?

Though his popularity rating has taken some hits lately, Vice President Jejomar Binay is still far and away the strongest contender for the Philippine presidency in 2016. But is he the right choice for the country? His legions of supporters will give you an enthusiastic "yes;" his detractors however, will tell you "no!" So who's right? To answer our question, lets look instead at Binay's deeds rather than the words of his supporters or detractors. Published 07/25/2014
---