enator Aquilino "Koko" Pimentel III has proposed a bill to grant Manny Pacquiao a special tax exemption for the income he will earn from his May 2nd boxing match with Floyd Mayweather Jr.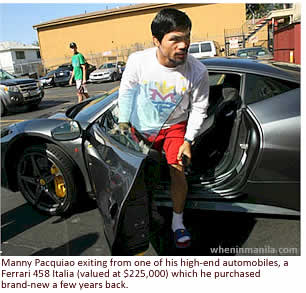 Pimentel justifies his bill as a "fitting tribute" to the Filipino eight-division world champion adding that "Manny is now part of our history and of world sports history. Let's give him this tax incentive in recognition to his invaluable efforts to promote boxing and the country around the world."
Now let's step back and think about this for a minute. Pacquiao is currently the richest member of Congress in the Philippines. He is also its only billionaire. In his upcoming bout with Mayweather, Pacquiao stands to make, at the very least, $100 million—that is over P4.5 billion pesos!
Muhammad Ali wasn't cut any "slack" by the United States when he was the renowned Heavyweight Champion of the World. Nor will Mayweather expect a tax break from the Internal Revenue Service (IRS) after his May bout. And Pacquiao is already one of the highest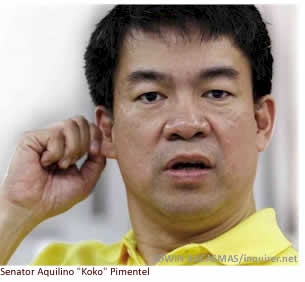 paid athletes in the world. He can buy whatever he wants, many, many times over. He does not need a tax break from his grateful, cash-strapped country. Senator Pimentel really needs to get his head "straight" so he can start thinking straight. He is after all a senator who has constituents who look up to him.

Instead of giving Pacquiao the tax break he neither needs nor deserves, Pimentel should visit "Pacman" and as tactfully as possible ask him to give back the salary he's earned as congressman because he's almost always absent. Then the good senator should file a bill that would use the amount of tax Pacquiao will owe the Bureau of Internal Revenue (BIR) from his upcoming boxing match with Mayweather, and allocate that amount instead for the education of the underage children of the 44 SAF troopers who ended up "butchered" by the Moro Islamic Liberation Front. That's what a "real" senator would do. Published 3/4/2015



Philnews.com reserves the right to select and edit comments for publication.

Selected comments from our readers
(Topic: With Negotiators Like These on Our Team, Who Needs an Opposing Side?)
Name: HMSomeone
City/State/Country: USA
IP Address: 74.77.36.177

Comments
News: Congress to pass BBL in June because the "alternative is war". There you have it my friends. The White Flag of Surrender. Despite the egregious fate of the 44 soldiers the PHL Congress will do what the Moros want. From now on any terrorists who want something from the PHL will just kill soldiers. Then ask for a meeting with Deles & Ferrer. I wonder what these Moros will do when the Chinese occupy more lands in Mindanao.
---
Name: AsISeeIt
City/State/Country: Cebu City
IP Address: 107.217.12.124

Comments
PNL said, these 2 (Deles & Ferrer)..."even arguing on behalf of the rebels during televised Philippine Senate sessions that investigated the massacre." Well put. I am wondering how these 2 (especially Ferrer, who looks very scholarly with her eyeglasses) were selected by PNoy to be the main peace negotiators. I suspect they were there in that position regardless of their credentials because these women are ardent supporters of PNoy's secret agenda to be elevated to the list of nominees for coveted Nobel Peace Prize. At the expense of seceding a third of Phil. archipelago and millions of Christians becoming 2nd class citizens in that area! OMG! This is TREASON!
---
Name: Gordon
City/State/Country: Glendale, Ca.
IP Address: 76.168.137.166

Comments
To [someone]: It is not who appointed them that matters. It is how they are performing that matters. As correctly pointed by a blogger, their behavior at the Senate hearing regarding repetitiously mouthing the opposite /blatantly wrong interpretation of a portion of the agreement that even a third year high school student can correctly interpret is the one that is suspect. Are their mental capacities still sound or possible unfathomable financial reward is clouding their judgment? They are traitors. Get rid of them now.
---
Name: Franklin R Lagera
City/State/Country: Calgary Canada
IP Address: 209.107.108.85

Comments
When will that resident of Malacañang wake up and fire these two women who have done great disservice to the country!
---
Name: Alvaro Ortega
City/State/Country: Manila
IP Address: 99.229.226.90

Comments
Maybe the 70 billion pesos that the government will give the BBL is one of the reasons why they are turncoating. Just asking.
---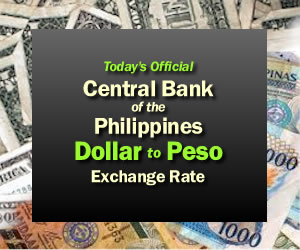 RECENT EDITORIALS
With Negotiators Like These on Our Team, Who Needs an Opposing Side?



What on earth happened to these two women—supposedly  handpicked by the president himself to argue on behalf of the Philippine government in peace negotiations with the Moro Islamic Liberation Front—who now seem to be mouthpieces for the Moros? Have Secretary Teresita Deles, Presidential Adviser on the Peace Process and Professor Miriam Coronel-Ferrer, chair of the negotiating panel become mesmerized by the tough "macho" image the rebels project? Published 2/27/2015
---
Why is the NBI Going After Those Who Uploaded the Sagonoy Video?

According to NBI Director Virgilio Mendez, they have identified the individuals who uploaded the video showing the coldblooded killing of PO2 Joseph Sagonoy. The cellphone video was purportedly taken by Muslim rebels during the Jan. 25, 2014 encounter between the Philippine National Police-Special Action Force and the Moro Islamic Liberation Front rebel group. The video shows a wounded Sagonoy who is shot twice in the head at close range. Published 2/21/2015
---
Twice the Heroes—the SAF 44 Who Lost Lives in Mamasapano

The 44 members of the Philippine National Police-Special Action Force (SAF) who were brutally killed in Mamasapano, Maguindanao on January 25, 2015 are heroes twice over: first, they paid the ultimate sacrifice while serving their country; second, they exposed for all to see, the dangers the country will face if the Bangsamoro Basic Law (BBL) is passed. Published 2/15/2015
---
No More Bangsamoro, Period!

With each passing day, it is becoming increasingly clear that the idea of a Bangsamoro is a bad idea. Just as the Memorandum of Agreement on Ancestral Domain (MOA-AD) spearheaded by former president Gloria Macapagal-Arroyo was a bad idea (and declared unconstitutional in 2008 by the Supreme Court). Just as the failed Autonomous Region for Muslim Mindanao (ARMM) during the 1990s was a bad idea. Published 2/8/2015
---
After the Mamasapano Massacre, Plans for a Bangsamoro Must Be Scrapped

What happened in Mamasapano, Maguindanao on January 25 is a "game changer"—make no mistake about it. Reality as we saw it before this event is not the reality we see now...everything is different; everything has "changed. When the Philippine National Police's (PNP) elite team known as the Special Action Force or SAF set out to arrest Zulkifli bin Hir alias Marwan, it had actionable intelligence that the Malaysian fugitive was hiding in the town of Mamasapano. Marwan, an expert bomb maker, is a core member of the terrorist group Jemaah Islamiyah. Published 1/31/2015
---
President Aquino Should Fly to Saudi Arabia and Pay His Last Respects to King Abdullah

Presidents and prime ministers, kings and queens; from Prince Charles and Prime Minister David Cameron of Britain, President Francois Hollande of France, President Abdel Fattah el-Sissi of Egypt, President Recep Tayyip Erdogan of Turkey and many other heads of state from all corners of the globe have gone or are headed to Riyadh to pay their respects to the late King Abdullah. Even U.S. President Barack Obama cut short his state visit to India to fly to Saudi Arabia. Published 1/27/2015
---
After the Pope's Visit: What We Filipinos Now Must Do
We put on a good show for Pope Francis. He loved it; we loved it; the world loved it. Now the long and painful task of bringing about the changes the pope asked for begins. Start with the Philippine Catholic Church. It should refocus its efforts towards the poor. As we wrote in previous editorials, many priests and bishops see themselves as members of the rich and privileged class. They feel more at home in country clubs and dining in expensive restaurants, than they do helping the poor who live in the squatter communities that dot most cities in the Philippines. Published 1/22/2015
---
Pope Francis Admonishes Pinoys to End Scandalous Inequalities

We had a feeling this was coming. In his first major speech in the Philippines, Pope Francis called for an end to 'scandalous inequalities' in the country. And what better example of a scandalous inequality is there than that a preposterously ridiculous wedding of Dingdong Dantes and Marian Rivera which was officiated by 8 bishops and 7 priests. In addition, this crass wedding featured a 12-foot high wedding cake, a 2-million-peso wedding gown with an exaggeratedly long train that seemed to go on forever...you get the picture. Published 1/16/2015
---