Rappler
Manila Standard
Manila Times
Asian Journal
Filipino Express
Malaya Online
Daily Tribune
CNN Philippines
Philippine News
Kababayan LA
MindanaoTimes
Sun Star
Negros Chronicle
Bohol Chronicle


President's Office
Vice President's Ofc.
Phil. Senate
Phil. Hse of Rep.
Supreme Court
Peso Exch Rate
Showbiz
Lazada
Buy & Sell Online
Filipino Channel
Phil History
Phil Business
Phil Basketball
Make it Cebu
BuWorld Online

---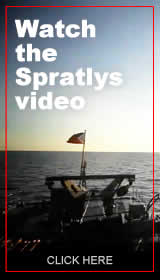 he woman is ambitious. We should all admire her for that. But as they say in politics, just because you can win does not mean you should (run for office). Remember Cory Aquino? We made her president,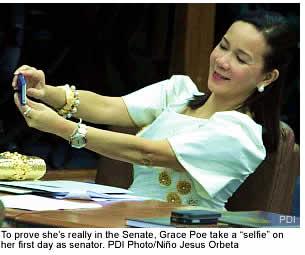 even though she admitted she was just a plain housewife and knew nothing about running a country. Well, after six years as president, she stepped down having accomplished next to nothing. And forever gave away the only real opportunity to turn this country around and correct the wrongs of the past. In fact many of the problems we face today continue to linger because of what she didn't do as president. But she was the grieving widow of our beloved hero Benigno Aquino Jr., and well … she had a sweet face and a really kind heart, and that was good enough for us Pinoys.

But today, nearly 30 years later, Filipinos cannot afford to make the same mistake again. In the upcoming election, we have the ambitious newcomer, neophyte Senator Grace Poe—an untested, "unknown quantity" in Philippine politics. Poe is currently riding a wave of popularity and is flirting with the idea of running for President not because she has a long record of achievements to run on—she has none. She is doing it simply because she knows she can win.

So we ask again as we have done several times in the past editorials: What exactly has Grace Poe done that qualifies her to lead the country as its president? In her latest speech she argued for the rights of adoptees … like her. Well, that's wonderful but we'd also like to hear her talk about more substantive issues like our national defense. What is her stand regarding China's aggressive moves in the West Philippine Sea? How does she plan on dealing with the multitude of rebel groups in the country? What about foreign policy? What are her views on ASEAN integration? Where does she stand on taxes? Does she have a comprehensive plan to curb pollution especially in our large cities? What about our exploding population? How does she plan on dealing with that? What guiding principles and beliefs will she follow as president? Nobody knows, and she's not saying!

As we've said about Cory Aquino, a sweet face and a kind heart is not enough. The Philippines is beset with serious problems and is lagging behind most of its Asian neighbors; the last thing it needs is another sweet faced know-nothing in Malacañang, who is out of her league and unable to come up with the right decisions to move the country forward.

In an interview with Bandila on ABS-CBN a few days ago Leni Robredo, the widow of the late Secretary Jessie Robredo, was asked if she planned to run for vice president in 2016. Her thoughtful reply in Pilipino was: "Sa palagay ko, 'yung VP, masyado siyang mahalagang posisyon; masyado siyang malaki. Masyado siyang malaki para sa katulad ko na nagsisimula pa lamang. Dalawang taon pa lang naman akong public servant (I think the position of VP is very important, and very big a position.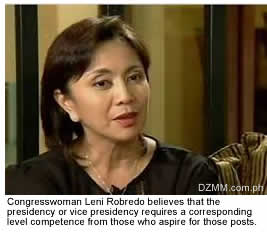 It is too big for someone like me who is just starting out in politics. I've been a public servant for only two years).

With her statement, Robredo not only displayed her humility, admitting that she still had much to learn in politics, but she also took a swipe at Poe who, though obviously unqualified, is considering a run for the presidency. Before becoming senator, Poe's only other public service job was with the MTRBC, a quasi government censorship board for movies and television.

Our advise to Poe, stay in the senate for another decade and prove yourself first before aspiring for higher office. Why? Because at this stage, you're not even fully qualified as a senator. Published 9/3/2015



Philnews.com reserves the right to select and edit comments for publication.
---
You can also post your comments below
via DISQUS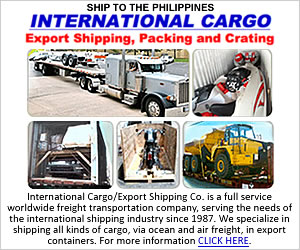 To Be President Bongbong Marcos Must First Acknowledge the Sins of His Father



In general a son shouldn't be blamed for what his father did. The Holy Bible itself acknowledges this in Deuteronomy 24:16: "Fathers shall not be put to death because of their children, nor shall children be put to death because of their fathers. Each one shall be put to death for his own sin. In the case of Senator Ferdinand "Bongbong" Marcos Jr. he has never been accused of active involvement in the abuses of his father, former President Ferdinand Edralin Marcos. Published 8/30/2015
---
Traffic Will Eventually Choke Metro Manila to Death...If We Do Nothing About It Now



In an earlier editorial we highlighted the pollution problem created by diesel and 2-stroke engines in Philippine cities. Here we highlight the deleterious effects Metro Manila's horrendous traffic problem has on the country's economy. Traffic moves around Metro Manila in a god-awfully slow pace. And as people and vehicles in this mega-metropolis increase that pace slows down even further. Published 8/26/2015
---
Why is the Philippines Still Spending Billions Buying Chinese Goods?



Are you one of the many Filipinos who, in righteous indignation, swore not to buy China-made goods because of what that communist country is doing to Philippine possessions in the West Philippine Sea?  First of all—thank you. It is not everyday that one can find people who are willing to make some sacrifice in order to stop an aggressive "bully" nation ... Published 8/22/2015
---
Air Pollution is Destroying Metro Manila and Most Cities in the Philippines



During the time of Jose Rizal, the country was known as the "Pearl of the Orient." The Spaniards, despite all their faults, built some amazingly beautiful cities in these "Islas." Clear water ran through the Pasig river and life was wholesome for all who lived here. Published 8/16/2015
---
Chief Justice Sereno et al, Speed Up Philippine Courts or Resign



So I guess if you're a Filipino, you're used to waiting forever for everything...especially government services. Unfortunately, the bar is set so low when it comes to government performance, it is no wonder the Philippines lags behind most countries. Published 8/11/2015
---
Why is Gloria Arroyo Keeping so Silent?



Remember her? She was president for almost a decade. A year after leaving office in 2010 Gloria Macapagal-Arroyo was arrested and placed under "hospital arrest" where she remains to this date. Charged first with electoral sabotage, then the misuse of Philippine Charity Sweepstakes funds, Arroyo is currently confined at the Veterans' Memorial Medical Center awaiting her day in court. Published 8/04/2015
---
More Far Left than the Philippine Far Left



Just as global Filipinos alarmed by China's massive reclamations in the West Philippine Sea were preparing to hold their third annual Global Day of Protest against China's imperialism on July 24, a "preemptive counter demonstration" was held on July 19 in front of the Philippine Embassy in Washington DC by Filipino American militants protesting US imperialism in the Philippines. Published 7/31/2015
---
The Iglesia ni Cristo Religion Will Eventually Self-Destruct



It will only be a matter of time before the Iglesia ni Cristo (INC), founded by Felix Manalo over a hundred years ago eventually destroys itself. Like All organized religions, it stands on shaky ground depending solely on the faith of its followers to keep it going. And once that faith begins to waiver, it is the beginning of the end for that religion. Published 7/25/2015
---
Why Isn't the Makati business Community Rallying Behind Jejomar Binay?



Doesn't anyone find it a bit strange that the former mayor of Makati does not seem to have the backing of that city's business community? Makati after all is the country's premiere business district. Most major Philippine corporations are headquartered there. And for someone who has won election after election, whose wife also served as mayor, and whose son is the current mayor, the city's business community seems totally disengaged ... Published 7/22/2015
---
What the Heck is the Problem with Filipino Voters?



Mar Roxas, who gave up his presidential aspirations in 2010 to make way for then presidential aspirant Benigno Aquino Jr., says he might be willing to give way again for frontrunner Grace Poe. The question Pinoy voters should be asking is if Roxas is so willing to give way to others, maybe he's not that interested in running for president. At this time more than ever, the country needs ... Published 7/16/2015
---
Local Officials, You Are Only Temporary Stewards of the Lands You Govern



Interior Secretary Mar Roxas got it exactly right when he told Makati Mayor Junjun Binay, "you don't own Makati City." Roxas was referring to the mayor's initial refusal to accept the suspension order from the Office of the Ombudsman in connection the ongoing corruption investigation against the mayor. Justice Secretary Leila de Lima chimed in as well, pointing ..." Published 7/3/2015
---
Will Same-Sex Marriage Ever Happen in the Philippines?



The United States Supreme Court has finally put its stamp of approval on same-sex unions. This following similar actions by governments in many other first-world democracies around the globe. The high court agreed with the argument that marriage is a very important institution in society. And to deny it to a certain group simply because of their sexual ... Published 6/27/2015
---
Who Should be the Next President of the Philippines?



Make no mistake, the next elections will be one of the most important—if not the most important—elections the country will ever have. Never since the Philippines gained self-determination in 1946 has it faced such an existential threat from a hostile foreign country as it now faces from China. Published 6/23/2015
---




Sen. Drilon asks LP: Find a VP for Mar Roxas, stop courting Grace Poe
MANILA - Senate President Franklin Drilon wants the Liberal Party (LP) to finally pick a vice presidential running mate for its standard-bearer, Interior Secretary Mar Roxas—and leave Senator Grace Poe out of the picture. Drilon, LP's vice chairman, said he will ask the party's national executive committee ...

APEC's trade liberalization agenda seen to benefit Filipino consumers
CEBU CITY, Sept. 3 (PNA) -- Filipino consumers can benefit from cheaper goods and services resulting from the implementation of trade-liberalizing and business-facilitating measures by the Asia-Pacific Economic Cooperation (APEC) economies.

Customs admits: No record of guns, drugs in Balikbayan boxes
MANILA – After grilling by Senator Ferdinand "Bongbong" Marcos Jr., an executive of the Bureau of Customs (BOC) acknowledged in the public hearing on tax reforms of the Senate ways and means committee that there has been no record, so far, of arms or drugs smuggled in using Balikbayan Boxes.
APEC meeting Chairperson: E-commerce key to developing SMEs
CEBU CITY, Sept. 4 (PNA) -- Senior officials from the Asia Pacific Economic Cooperation (APEC) are working on helping the small and medium enterprises (SMEs) to scale up their operations and expand into new markets through e-commerce.
PhilRice recommends El Niño-ready varieties, technologies to farmers
QUEZON CITY, Sep. 4 -- To help farmers cope with and mitigate the extreme impact of El Niño, the Philippine Rice Research Institute (PhilRice) encourages them to plant drought-tolerant varieties and use El Niño-ready technologies on rice production.

Binay on what ailed PNoy admin: 'Analysis Paralysis' and PPPs (Power Point Presentations)
MANILA - The Aquino administration's centerpiece Public-Private Partnership (PPP) program is a sound one, and Vice President Jejomar Binay says he will certainly pursue it should he win in 2016, but with a caveat: he will make sure he gets PPP projects done right and well and quick.
PDEA backs bill on affordable drug rehab treatment
QUEZON CITY, 4 September (PIA) - The Philippine Drug Enforcement Agency (PDEA) supports a proposed bill that would extend affordable treatment and rehabilitation services to drug dependents that are entitled to health care benefits of the Philippine Health Insurance Corporation (PHILHEALTH).
Aquino administration's cumulative int'l tourist arrivals surpassed the 9-year total of the Arroyo administration, says DOT chief
MANILA, Sept. 3 (PNA) -- The Department of Tourism (DOT) said on Thursday the Aquino administration has surpassed the previous administration in terms of cumulative international tourist arrivals. Speaking before delegates at the 3rd Philippine Tourism Forum, DOT Secretary Ramon Jimenez Jr. said ...

Secretary Jose Rene Almendras new traffic czar
Cabinet Secretary Jose Rene Almendras is turning out to be President Aquino's troubleshooter. With no clear solution in sight for the worsening traffic problem, particularly in Metro Manila, Malacañang ...
READ IT AT PHILIPPINES NEWS HEADLINES
4 Commission on Audit execs tied to scam
Four officials of the Commission on Audit (COA), including a now retired commissioner and state auditors, did not only look the other way but also helped officials of National Agribusiness Corp. (Nabcor) go around adverse reports involving ...
READ IT AT PHILIPPINES NEWS HEADLINES
Jejomar Binay sings new tune on Ferdinand Marcos
Vice President Jejomar Binay, a former human rights lawyer, on Friday downplayed the human rights violations committed during martial law, saying the country should "move on." Binay spoke favorably about ...
READ IT AT PHILIPPINES NEWS HEADLINES
House rejects government push for higher VAT
While Malacañang won't cut income taxes, the House of Representatives is also unlikely to approve the Aquino administration's proposal to increase the value-added tax (VAT) from 12 to 14 percent. Lawmakers slammed Malacañang ...
READ IT AT PHILIPPINES NEWS HEADLINES
Commission on Human Rights condemns slay of 'lumad' educator
The Commission on Human Rights (CHR) has condemned the killing of a lumad (indigenous) educator and two tribal leaders in Surigao del Sur province on Tuesday. "Tribal leaders, executive directors of schools, must ...
READ IT AT PHILIPPINES NEWS HEADLINES
PNP increases traffic cops for EDSA deployment
More than 150 armed police officers will try to restore order and discipline among motorists and commuters on EDSA starting Monday, the chief of the PNP Highway Patrol Group announced on Friday. The number is an increase from the 96 ...
READ IT AT PHILIPPINES NEWS HEADLINES
Ex-Iglesia ni Cristo minister says armed men stood guard during his 'illegal detention'
The compound where Isaias Samson Jr. was allegedly illegally detained by the Iglesia ni Cristo hierarchy was guarded by men with high-powered guns, he said in a television interview Friday. Samson said the compound, where ...
READ IT AT PHILIPPINES NEWS HEADLINES
Bill seeking more benefits for PWDs gets closer to becoming a law
The Senate approved on third and final reading yesterday a bill seeking to exempt persons with disabilities (PWDs) from paying the mandatory 12 percent Value-Added Tax (VAT) on goods and services. The Senate approval brings the bill ...
READ IT AT PHILIPPINES NEWS HEADLINES
Judy Ann Santos, Ryan Agoncillo expecting a baby girl
MANILA, Philippines – Judy Ann Santos and Ryan Agoncillo is expecting a baby girl! The couple made the announcement through their respective Instagram accounts. On Friday, Judy Ann reported her husband's post ...
READ IT AT PHILIPPINES NEWS HEADLINES
Davao tourist swallows cigarette butt after reprimand from Duterte
A local tourist who violated Davao City's anti-smoking ordinance reportedly swallowed a cigarette butt after being reprimanded by Mayor Rodrigo Duterte himself. In a Facebook post, former North Cotabato Governor Manny Piñol ...
READ IT AT PHILIPPINES NEWS HEADLINES