t is incomprehensible to many that despite all the negatives piling up against it, the Aquino administration is still pushing for Congress to ratify the Bangasamoro Basic Law (BBL). continued below graphic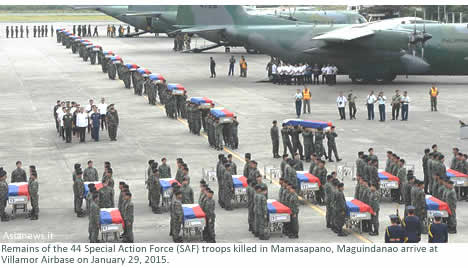 First and foremost, the Moro Islamic Liberation Front with whom the Philippine government entered into an agreement with, massacred 44 Special Action Force (SAF) policemen who were serving an arrest warrant on an international terrorist. Because the SAF officers were in what the rebels perceive as "their" territory provided the Moros with the excuse they needed to savagely slaughter the group. This incident, known as the Mamasapano Massacre occurred shortly after the Moros and the Aquino administration signed the BBL.
So much for a show of good faith from the Moro Islamic Liberation Front. The fact that they fervently want the BBL agreement ratified by the Philippine Government, did not stop them from killing as many Philippine policemen as they could.
Next, the Filipino people find out that the Moro representative who actually signed the agreement, did so using a pseudonym—a fake name, a nom de guerre.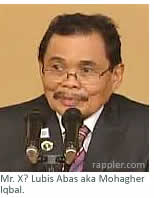 The Moro Islamic Liberation Front chief negotiator, known to one and all as Mohagher Iqbal is not his true name. He has refused to disclose his real name to the media or the Philippine Senate. It is difficult to follow the logic put forward by Iqbal that he is hiding behind a pseudonym to protect his family. When ordinary citizens enter into a contract or sign an agreement, the law requires that they use their true name. But for some incomprehensible reason, the Aquino administration is okay with the Moro Islamic Liberation Front's representative signing a comprehensive agreement of great importance (one which establishes an autonomous region, and commits the government to billions of pesos in funding for decades to come) with a fake name.

The Filipinos of tomorrow—the ones who will truly bear the brunt of the BBL should it become law—will be aghast when they learn that that onerous agreement was signed by a Moro representative who refused to publicly identify himself. Iqbal might just as well have signed it as "Mr. X."

And most recently, the Moro Islamic Liberation Front has stated categorically that they will not turn over to Philippine investigators any of the fighters involved in the Mamasapano incident.

During the recent commemoration of the Fall of Bataan, President Benigno Aquino III noted that Filipinos, Americans, and Japanese are now close allies although not long ago, Japan was the enemy. What Aquino failed to mention was that Japan was first totally defeated before it changed its ways. The same can be said of Germany. Even in the history of the United States, the Southern states that rose up against the North had to first be defeated before they were fully integrated back into the Union. Most recently, North Vietnam had to decisively defeat South Vietnam before they could become the unified vibrant Vietnam that we know today.

If we Filipinos are to learn anything from history, it is that a two-state compromise is usually unworkable. The Philippines must exercise complete control over all of Mindanao before any change for the better can occur. During waning days of World War II, there was never any serious talk of making a deal with Hitler or the Japanese emperor. Hostilities might have ended sooner and thousands of lives would have been saved if the Allies had allowed the Nazis or the Japanese to keep some of their territory in exchange for a cessation of hostilities—a "win-win" situation for the Allies and the Axis powers. Germany and Japan would save face and continue insisting that their cause was right. But alas, that world would be a very different—most likely more dangerous—place than what we have today.

Instead Germany and Japan were totally defeated and the Allies exacted full capitulation from them. The Germans and the Japanese eventually realized the error of their ways and changed for the better. Today both have one of most robust economies in the world.

By contrast, in the Korean peninsula in 1951, General Douglas MacArthur was relieved of his command as Commander-in-Chief of the United Nations Command (UNCOM) by US President Harry Truman. MacArthur wanted to bring the fight all the way to Pyongyang and crush the communist north. He knew there was no substitute for total victory. In one of his letters he noted "…we must win. There is no substitute for victory."

But with MacArthur out of the way, a political accommodation was reached. To this day, Korea remains a divided country with a despotic communist government in the North, and a highly industrialized democratic government in the South.

Is this the kind of divided country Filipinos of today wish to pass down to future generations? A well-armed, distrustful, predominantly Muslim region that views itself as co-equal to the Philippine government? Say "NO" to the mediocre, defeatist stand the Aquino administration is imposing on its citizens. Instead let us first take full control of all of Mindanao. Then we can all work as one people to make it better. We must learn from the past. We owe it to the next generation because they, more than us will have to live with whatever decision—right or wrong—we make today. Published 4/18/2015



Philnews.com reserves the right to select and edit comments for publication.

Selected comments from our readers
(Topic: There Will Never be Lasting Peace with the Bangasamoro Basic Law)
Name: Jose
City/State/Country: Manila
IP Address: 69.176.165.184

Comments
Why BBL must be rejected: 1) It heavily favors Malaysia-backed terror group Moro Islamic Liberation Front and ignores the rights of Lumads, Christians, MNLF and other Muslim groups that do not want to be governed by Moro Islamic Liberation Front. 2) Under the BBL agreement, the Philippine government will give Bangsamoro P26 billion in six years of block payments, yet the PNP, COA, CHR, Comelec and Civil Service will not have authority in Bangsamoro. 3) Bangsamoro can annex any nearby province with a simple petition of 10 percent of the inhabitants of the area.
---
Name: CARLOS RAMOS SAULOG
City/State/Country: CHICAGO, IL USA
IP Address: 24.148.18.74

Comments
Never give up Mindanao! Don't give Mindanao away! Despite numerous treaties of peace, accord or what kind in the past, we need not bow to the dreams, aspirations, and wishes of our elite Muslim brothers influenced by other powerful Islamic countries. We need to assimilate our Muslim brothers to our present way of life, democratic system of government, rules of law, and respect of human rights. We need to develop Mindanao - inflow of investment, job opportunities, migration of Christians to the South, etc.
---
Name: JRH
City/State/Country: Vacationland
IP Address: 24.203.177.29

Comments
The main goal: Vast success or total failure but it seems that the Moro Islamic Liberation Front camp is following their own protocols or procedures in their submission of the Mamasapano Report (90% complete?) but then, only to submit it to the Malaysian representatives or to a favored 3rd party. Why & under whose authority are the Moro Islamic Liberation Front subscribing to? Likewise, why is Iqbal using an alias & under whose authority are the Moro Islamic Liberation Front subject to. Our govt panel or the Malaysian? It's odd & for all we know we might be receiving a water-down version or a generic report favorable only to the Muslim brothers (or are they still Filipinos or actual Malaysians in disguise) Let's wake up. It's either they deal directly with our govt & nobody else. There must be no middle ground. Take it or quit.
---
Name: Manuel C. Diaz
City/State/Country: Montclair CA USA
IP Address: 75.82.40.239

Comments
It took Catholic Spain 700 years to expel ISLAM from the Iberian Peninsula. The Catholic Philippines has been at war on and off for almost 200 years with ISLAM in Mindanao so we have at least 500 more years to expel ISLAM from Mindanao and drive them off to Malaysia!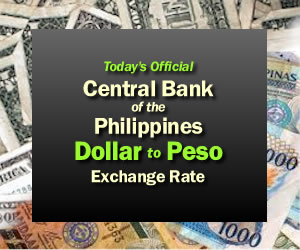 RECENT EDITORIALS
Is Manny Pacquiao Giving Floyd Mayweather an Unfair Advantage?



Doctor Expedito Castillo, a retired internist with training in sports medicine thinks so. Castillo who lives in New York points out that Los Angeles—where Manny Pacquiao now trains for his May 2nd fight, and Las Vegas—where Floyd Mayweather trains and where the boxing match will take place, have enormous differences in terms of elevation. Los Angeles is just 233 feet above sea-level, while Las Vegas is a whopping 2,000 feet above sea-level. 33. Published 4/11/2015
---
Just When You Thought Filipino Cops Were the Worst, Here Come US Cops

What in the world has happened to cops in the United States? It seems that today only psychotic, unstable, individuals are joining the U.S. police force this days. People from all across the globe were more than willing to give American cops the benefit of the doubt, at first. But in instance after instance, from Ferguson, MS and the killing of Michael Brown, a young black man who witnesses say was unarmed and posed no threat at all to police; to today's cold-blooded murder of Walter F. Scott, 50 by South Carolina police officer Michael T. Slager, 33. Published 4/7/2015
---
NPA Celebrates 46 Years of Destroying the Philippines

Founded by Bernabe Buscayno, or "Kumander Dante" as he was more commonly known, the New People's Army established on March 29, 1969 marks its 46th year of existence. From less than 40 founding members and a handful of firearms, the NPA grew to over 26,000 members in the 1980s. Today however the Armed Forces of the Philippines (AFP) places NPA membership at less than 5,000 nationwide. That number is expected to dwindle even further as progress and education creep in to the far-flung towns and barrios that were once breeding grounds for recruits. Published 3/30/2015
---
Lee Kuan Yew and Ferdinand Marcos, What a Difference!

An Australian living in the Philippines published a book titled: "The Unlucky Country. The Republic of the Philippines in the 21st Century." The author Duncan McKenzie came up with the title as the counterpoint to "The Lucky Country" a book written in the mid-sixties that refers to Australia. In his book McKenzie explains that the Philippines is unlucky because, for starters, it is an archipelago and therefore naturally fragmented. Published 3/17/2015
---
Will the Philippines Ever Speed Up Its Glacially-Slow Justice System?

We've all heard the saying "justice delayed is justice denied." That maxim has been around since time immemorial. In fact the Pirkei Avot (Hebrew for "Ethics of the Fathers") which dates back to the 1st century B.C. mentions an old rabbi saying that goes: "the sword comes into the world, because of justice delayed and justice denied." In 1215 A.D. a clause from the Magna Carta similarly declares that "to no one will we refuse or delay, right or justice." Published 3/17/2015
---
Amal Alamuddin Clooney Wants to Defend Gloria Macapagal-Arroyo ...Why?

Okay so she's George Clooney's wife, she's got great looks, a law degree and ambitious enough to make a name for herself apart from that of her superstar husband. Fair enough. So Amal Alamuddin Clooney decides to take on high profile cases of injustice around the world. Even better. But filing a complaint with the United Nations Human Rights Council on behalf of former President Gloria Macapagal-Arroyo? What's up with that? Better do your homework Mrs. Clooney. It won't take long for you to realize that Arroyo is getting exactly what she deserves. Published 3/12/2015
---
Manny Pacquiao Should Not Be Given a Tax Exemption

Senator Aquilino "Koko" Pimentel III has proposed a bill to grant Manny Pacquiao a special tax exemption for the income he will earn from his May 2nd boxing match with Floyd Mayweather Jr. Pimentel justifies his bill as a "fitting tribute" to the Filipino eight-division world champion adding that "Manny is now part of our history and of world sports history. Let's give him this tax incentive in recognition to his invaluable efforts to promote boxing and the country around the world." Published 3/4/2015
---
With Negotiators Like These on Our Team, Who Needs an Opposing Side?

What on earth happened to these two women—supposedly  handpicked by the president himself to argue on behalf of the Philippine government in peace negotiations with the Moro Islamic Liberation Front—who now seem to be mouthpieces for the Moros? Have Secretary Teresita Deles, Presidential Adviser on the Peace Process and Professor Miriam Coronel-Ferrer, chair of the negotiating panel become mesmerized by the tough "macho" image the rebels project? Published 2/27/2015
---
Why is the NBI Going After Those Who Uploaded the Sagonoy Video?

According to NBI Director Virgilio Mendez, they have identified the individuals who uploaded the video showing the coldblooded killing of PO2 Joseph Sagonoy. The cellphone video was purportedly taken by Muslim rebels during the Jan. 25, 2014 encounter between the Philippine National Police-Special Action Force and the Moro Islamic Liberation Front rebel group. The video shows a wounded Sagonoy who is shot twice in the head at close range. Published 2/21/2015
---
Read more articles from our archives