Archived News Headlines from June 1, 2017 to July 31, 2017
(Please note: some articles may have been removed by their respective publications)

6/17/2017

3 injured, 7 missing as U.S. destroyer, PH merchant ship collide off Japan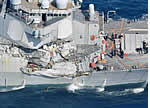 WASHINGTON/TOKYO — (UPDATE 3 – 5:00 p.m.) Seven crew members are missing and at least three injured after a U.S. Navy destroyer collided early on Saturday morning with a Philippine-flagged merchant vessel south of Tokyo Bay in Japan, the U.S. Navy said. The Japanese Coast Guard said the U.S. ship was experiencing some flooding but was not in danger of sinking, while the merchant vessel was able to sail under its own power.
No Filipino casualties from collision between ACX Crystal and USS Fitzgerald- DFA
MANILA, June 17 -- The Department of Foreign Affairs said Saturday that the PHL Embassy in Tokyo has been advised by Japanese authorities that there are no Filipino casualties so far from the collision that happened at 2:30 a.m. Saturday about 56 nautical miles southwest of Yokosuka, Japan.
Vietnamese hostage rescued from Abu Sayyaf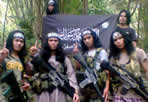 Zamboanga—Philippine troops have rescued a Vietnamese sailor held hostage for seven months by Islamist militants in Mindanao, the military said Saturday. Hoang Vo, 28, was rescued by troops on Friday after an airstrike and artillery fire on an Abu Sayyaf camp in the island of Basilan dispersed the kidnappers, regional military spokeswoman Captain Jo-Ann Petinglay said.
Measures to de-escalate South China Sea tensions seen to improve ASEAN-China ties
MANILA, June 17 -- The Philippines expects relations between the Association of Southeast Asian Nations (ASEAN) members and China to improve on the back of two "early harvest measures" meant to de-escalate and manage tensions in the disputed South China Sea (SCS)/West Philippine Sea.
Duterte not being scarce: 'I was out of town,' he tells troops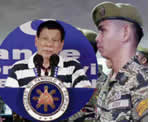 President Rodrigo Duterte on Saturday explained his recent spell of being absent from the public eye, saying he was on an out-of-town visit but could not as yet divulge details about it. "In coma ako? Wrong spelling. Kama!" he joked to media. After visiting troops based in Butuan City on Saturday afternoon, Duterte held a press conference to shed light on his reasons for scarcely making public appearances from Monday to Friday.
6/13/2017
VP Leni Robredo takes dig at Justice Secretary Aguirre for spreading fake news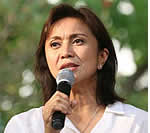 MANILA, Philippines – Vice President Maria Leonor "Leni" Robredo took a dig Tuesday at Justice Secretary Vitaliano Aguirre II for spreading fake news, warning his actuations could erode the people's trust in the government. Robredo also raised alarm over posturing of some government agencies and institutions questioning the Constitution, such as Congress itself.
President Duterte asks Filipinos to be responsible as country marks 119th Independence Day
MANILA, June 12 -- President Rodrigo Duterte joined the nation on Monday, June 12, in celebrating the country's 119th anniversary of its independence calling on Filipinos to become responsible citizens. "I join the entire Filipino nation in celebrating the 119th anniversary of the Proclamation of Philippine Independence," President Duterte said in a statement.
5 civilians killed, 8 others taken hostage in Marawi; 300 to 500 still trapped in war-torn city, says military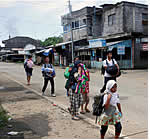 MANILA, Philippines – War spares no one. In Marawi City, the fighting's victims include residents –- both Muslims and Christians — who have become refugees in their own homeland. Among them are about 300 to 500 civilians, who were trapped in the war between government troops and Maute and Abu Sayyaf extremists, which is now on its 22nd day.
Philippines being checked by ISIS after failure to establish in Indonesia: analyst
MANILA, June 10 -- The Philippines, especially Mindanao, is being eyed by ISIS terrorists as another base for operations after their failure to establish a caliphate in Indonesia, a Singaporean analyst on security affairs has said. The terror group's expansion began in 2014 when ISIS decided to go beyond the borders of Iraq, Iran, Syria and the Middle East and set their sight on Africa, the Caucasus and Asia, Dr. Rohan Gunaratna said in a Skype interview during PTV-4's Countering Violent Extremism Forum Friday.
Duterte to US: Thank you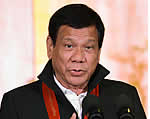 PRESIDENT Rodrigo Duterte on Monday thanked the United States for providing technical assistance in the government's battle against Islamist terrorists in Mindanao, after more than a year of cursing at Washington for criticizing his bloody campaign against illegal drugs. While insisting he did not seek US help to end the siege in Marawi City, Duterte on Sunday softened his critical stance toward the country's longstanding ally.
06/2/2017
Resorts World Manila management discloses partial list of fatalities

The management of Resorts World Manila announces on camera the identities, so far available, of fatalities, both staff and guests in the aftermath of the armed robbery incident that sparked a fire at the casino-hotel mall complex.
President Duterte to soldiers: We will win vs extremism


MANILA, June 2 -- President Rodrigo Duterte on Friday expressed confidence that government forces will win in its fight against extremists in Marawi. The President made the pronouncement as he visited the 102nd Infantry Brigade in Zamboanga Sibugay.
MARAWI CRISIS | Brigade commander leading battle with Maute relieved of command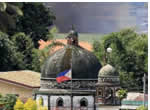 MARAWI CITY – Brig. Gen. Nixon Fortes, commander of the army brigade leading the offensive against pro-Islamic State militants holed up in a southern Philippine town has been relieved of his command, an army spokesman said on Friday, the 11th day of the country's biggest security crisis in years.
Businessmen shrug off woes on martial law declaration
MANILA, June 2 -- An official of a Philippine-based investment house remains optimistic on the domestic economy amid the martial law declaration in Mindanao and some peace-and-order-related incidents. BDO Capital & Investment Corp. (BDO Capital) president Eduardo V. Francisco said he does not have any qualms on the ongoing martial rule in southern Philippines "as long as civil rights and citizens' right are followed."
Travel warnings out after attack on casino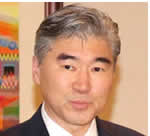 THE United States, the United Kingdom, Australia and Canada have included Metro Manila in their travel advisories after a masked gunman set fire to the Resorts World Manila, suffocating 36 guests and employees of the casino. US President Donald Trump prematurely labeled the attack as "an act of terror."